Posts Tagged 'Sovereign Risk'
Friday, June 8th, 2012

By Eric Sprott & Shree Kargutkar
June 8, 2012
There have been key developments in the physical gold market over the last few weeks which we feel are worth highlighting:
1) The Chinese gold imports from Hong Kong in April, 2012 surged almost 1300% on a YoY basis. Total gross imports for the month of April were 103.6 tonnes and the net imports were 66.3 tonnes1. It is not the data for April alone which has caught our eye. There has been a stunning increase of gold imports through Hong Kong for export into China over the past 2 years. Between May 2010 and April 2011, China imported a net 66 tonnes of physical gold through Hong Kong. Between May 2011 and April 2012, that number jumped to 489 tonnes. This represents an increase of 640%.
HONG KONG GOLD EXPORTS TO CHINA (KG)

Source: Census and Statistics Department of Hong Kong
2) Central banks from around the world bought over 70 tonnes of gold in April, 2012. Data from the IMF showed developing countries such as the Philippines, Turkey, Mexico and Sri Lanka were significant buyers of gold as prices dipped2.
3) Iran purchased $1.2B worth of gold in April, 2012 through Turkey. As the developed nations continue devaluing their currency at the expense of developing nations, countries such as Iran, China and Mexico are forced to look at alternative stores of value3.
4) After twenty years of lackluster returns and stagnant bond yields, Japanese pension funds have finally discovered the value of investing in gold. The $500M Okayama Metal and Machinery pension fund placed 1.5% of its assets into gold bullion-backed ETFs in April in order to "escape sovereign risk"4.
5) Bill Gross writes5, "Soaring debt/GDP ratios in previously sacrosanct AAA countries have made low cost funding increasingly a function of central banks as opposed to private market investors. Both the lower quality and lower yields of previously sacrosanct debt therefore represent a potential breaking point in our now 40-year-old global monetary system. […] As they (investors) question the value of much of the $200 trillion which comprises our current system, they move marginally elsewhere – to real assets such as land, gold and tangible things, or to cash and a figurative mattress where at least their money is readily accessible". Is the bond king recommending gold? YES, YES YES!
6) The Gold Mining ETF, GDX, has seen strong inflows in the past 3 months. The number of units outstanding have increased from 162.5M6 to roughly 187M7 between March 1, 2012 and May 31, 2012. This represents an increase in assets of almost $1.2B in a span of 3 months. It is worth pointing out that for a majority of this three months period, GDX, and by extension the gold mining companies were experiencing significant declines in their market values.
We believe there has been a material change in the gold investing landscape. The HUI, which is the Gold Bugs Index, is now up over 20% from its lows since May 16th, 2012. The slide in gold equities seems to be subsiding as a foundation for a strong move upwards is set. New buyers, represented by the Chinese, central banks, Japanese pension funds and the Iranians, bought almost 140 tonnes of gold in April alone. To put this into perspective, the annual gold production is approximately 2600 tonnes8. China and Russia produce around 500 tonnes of gold annually, which never makes it to the open market. This leaves about 2100 tonnes of gold production annually for the rest of the world.
When buyers representing 140 tonnes of new demand enter a market which only has 175 tonnes of monthly supply, we are left wondering about two things:
1) In a balanced market, where is the source of supply to the new buyers going to come from?
2) How can a new buyer of size get into the gold market, which is already balanced, without significantly impacting the price of gold?
The answer is fairly obvious. When demand outstrips supply, prices move higher. These significant macro changes in the supplydemand dynamic of the gold market should propel the price of gold to new highs.
1. HK Gov statistics website: http://www.censtatd.gov.hk/
2. IMF website: http://www.imf.org/external/data.htm
3. http://www.resourceinvestor.com/2012/06/05/irans-gold-imports-from-turkey-surgedin-april?ref=hp
4. Financial Times: http://www.ft.com
5. http://www.pimco.com/EN/Insights/Pages/Wall-Street-Food-Chain.aspx
6. http://www.forbes.com/sites/etfchannel/2012/02/28/notable-etf-inflow-detected-gdx-abx-gg-nem-3/
7. http://www.forbes.com/sites/etfchannel/2012/05/29/noteworthy-etf-inflows-gdx-abx-gg-nem-3/
8. GFMS – www.gold.org
Tags: Bill Gross, Bond Yields, Buyers Of Gold, Central Banks, China, Developed Nations, Eric Sprott, ETF, ETFs, Gold, Gold Bullion, Gold Exports, Gold Imports, Gold Market, Gross Imports, Investing In Gold, Key Developments, Market Investors, Month Of April, Private Market, Shree, Sovereign Risk, Sprott, Sprott Gold, Statistics Department
Posted in Markets | Comments Off
---
Saturday, April 14th, 2012
In our prior post we highlighted year to date country stock market returns.  Below we highlight the change in sovereign debt default risk for 50 countries.  For each country, we show where its 5-year CDS (credit default swaps) currently stands and where it was at the start of the year.  Prices are in basis points.
As shown, just 3 of the 50 countries have seen default risk increase in 2012 — Portugal, Greece and Spain.  Spain is the main problem, with default risk now up 32.31% year to date.
Norway, Switzerland, the US and Sweden have seen huge drops in default risk so far this year.  Norway now has the lowest default risk of any country at 22.05 bps, followed by the US at 29.6 bps.  It's been awhile since US CDS has been below 30.
Tags: April, Basis Points, Bps, CDS, Countries, Country Risk, Country Stock, Credit Default Swaps, Debt Default, Default Risk, Greece, Norway, Portugal, Sovereign Debt, Sovereign Risk, Spain, Stock Market Returns, Sweden, Switzerland
Posted in Markets | Comments Off
---
Thursday, December 8th, 2011
It is no surprise that there is both an implicit and explicit link between financial entity risk and that of their local sovereign overlord. The multitude of transmission channels is large and the causalities, not merely correlations, run both ways, providing for both virtuous (2009 perhaps) and vicious (2010-Present) circles. Goldman Sachs, in its 2012 investment grade credit outlook takes on the topic of the feedback loop which is engulfing financials and sovereigns currently – noting that despite the 'optical' cheapness of financial spreads to non-financials (and equities) that it is unlikely to compress significantly without a 'solution' to the sovereign crisis being well behind us. The key takeaway is that pre-crisis sovereign credit premia were, in hindsight, uneconomically tight (unrealistic) and expectations of a return to those levels is incorrect as they see the current repricing of sovereign risk as a paradigm shift as opposed to temporary repricing due to market stress. "Sovereign spreads will likely emerge from the crisis both more elevated and more dispersed", meaning floors on bank spreads will be elevated and deleveraging pressures to be maintained raising the real risk, outside of spam-and-guns Euro-zone crashes, of a potential credit crunch. This is already evident in European loan spreads, which as we have discussed many times is the primary source of funds (as opposed to public debt markets as in the US).
Goldman Sachs: The Feedback Loop Between Sovereigns And Financials
The spread differential between financials and non-financials is at all-time highs. Even so, we do not expect this relative spread premium to compress until the risk from the European sovereign crisis is safely behind us. Financials remain disproportionately exposed to the interaction of downside macro risk and the enormous pressure under which European sovereigns and banks are laboring. Exhibit 15 shows that US and European bank spreads have been highly correlated with European sovereign spreads in 2011—a trend we expect to persist in the next few months. It is therefore hard for us to see how financial spreads can outperform as the crisis worsens (which in our view is still the most likely scenario from here).

It now seems clear that European policy efforts will not try to stabilize sovereign credit spreads at pre-crisis sovereign spread levels. In hindsight, the credit premium built into sovereign spreads were unrealistic. Looking forward, the ECB (backed by the Germans) has publicly resisted the notion that it either can or should push back against the market's recent repricing of this risk. Instead, policy makers want to see peripheral sovereigns make the adjustments to domestic demand necessary to accommodate this sharp increase in sovereign borrowing costs.

There will be even greater pressure on sovereign spreads in the near term since the core countries and ECB clearly need to keep the external pressure elevated to assure the continued adaption of austerity measures. The "benefits" of austerity will not likely be visible for at least a year (on the contrary, the front-loaded portions of these austerity measures will most likely prove counter-productive). And demands for austerity are more likely to grow as it becomes evident that the repricing of sovereign risk has a large permanent component, reflecting a paradigm shift in the pricing of sovereign risk as opposed to a temporary repricing of market stress. Sovereign spreads will likely emerge from the crisis both more elevated and more dispersed.

For banks, this means credit spreads are almost surely going to embed a persistent premium for sovereign risk. This logic implies there is much less upside room for spread tightening in periphery banks than a simple naïve benchmarking to pre-crisis levels would suggest.

We also expect deleveraging pressures on banks to remain high. The magnitude of announced deleveraging plans of European banks already totals hundreds of billions. We expect the deleveraging trend to continue in 2012. This raises the risk of a potential credit crunch that would further weaken growth, which in return negatively impact banking activity, impair bank assets, and thus amplify the banking crisis.

To be clear, we think losses to senior bond holders of pillar banks in Europe are highly unlikely. Banks have significantly increased their liquidity positions, and we think the ECB can probably do enough to trim the tail risk of a Lehman-style shock. Nonetheless, the number of distressed banks that are now on the ECB "life-support" has increased as the sovereign crisis intensifies. The health of these banks is likely to deteriorate over time, making the final cost more expensive the longer the ECB has to provide this support.
This suggests the Senior-Sub decompression trade is warranted (as we have been saying for a while – pre-downgrades) and picking the carry on financials-non-financials seems like nothing but a beta play to us. Up-in-quality via Main ex-Financials may be lower carry but stands to benefit both ways and XOver looks set to suffer more if deleveraging forces a credit crunch.
Tags: All Time Highs, Correlations, Credit Crunch, Credit Outlook, Debt Markets, Euro Zone, European Sovereigns, Explicit Link, Feedback Loop, Financial Entity, Financial Spreads, Goldman Sachs, Hindsight, Public Debt, Repricing, Source Of Funds, Sovereign Risk, Spr, Takeaway, Transmission Channels
Posted in Markets | Comments Off
---
Friday, October 21st, 2011
by Russ Koesterich, Chief Investment Strategist, iShares
In recent months, I've pointed out some of the opportunities in emerging market equities. There is an equally compelling case to be made for emerging market debt.
Emerging market debt is a way to diversify your emerging market exposure, especially if you are worried about a slowing global economy. Even more, when it comes to your fixed-income allocation in general, there's a long-term reason to consider emerging market debt: Credit quality.
While emerging markets are not without their share of macroeconomic problems, they are not experiencing the same sovereign debt problems as their developed market neighbors. In fact, the world's sovereign debt problems are centered in developed markets such as Europe, the United States and Japan. I've already mentioned this as a fact supporting emerging market equities. It's even more supportive of emerging market fixed income.
As emerging markets are not nearly as indebted and ridden with fiscal problems as developed markets, emerging market debt could arguably provide lower credit risk. This is especially true if you believe the developed world's fiscal problems are only likely to get worse over the long term.
Last year, according to an October 2010 J.P. Morgan research report, credit agency upgrades of emerging market ratings far outpaced downgrades, while the opposite was true for developed markets. With agency downgrades of developed markets in the news daily now, the trend is likely continuing this year.
The BlackRock Investment Institute's Sovereign Risk Index, meanwhile, provides another measure of a country's sovereign risk. According to the Institute's October risk index data, many emerging market countries are ranked higher (i.e. less risky) than their developed market counterparts (see the full ranking here). South Korea, Chile, Thailand, Malaysia, China and Russia, for instance, all have higher index scores than a number of European countries including the United Kingdom, France, Italy, Ireland, Portugal and Greece.
But while there's a case for emerging market debt, I'm not advocating that investors abandon Treasuries in favor of Brazilian debt. There are several caveats emerging market debt investors need to keep in mind. First, these are generally new debt markets with corporate debt and corporate governance issues. In addition, widespread risk aversion would hurt emerging market debt. In light of these risks, investors — particularly risk averse ones — should be cautious, and keep their allocation to this asset class modest.
With that caveat, emerging market debt may be worth considering in the longer term if you're worried about a further deterioration of credit quality in the developed world (possible iShares solution: LEMB and EMB).
Disclosure: Author is long EMB
Diversification may not protect against market risk.
Bonds and bond funds will decrease in value as interest rates rise. In addition to the normal risks associated with investing, international investments may involve risk of capital loss from unfavorable fluctuation in currency values, from differences in generally accepted accounting principles or from economic or political instability in other nations. Emerging markets involve heightened risks related to the same factors as well as increased volatility and lower trading volume.
Narrowly focused investments typically exhibit higher volatility and are subject to greater geographic or asset class risk. Bond funds may be subject to credit risk, which refers to the possibility that the debt issuers will not be able to make principal and interest payments.
Copyright © iShares
Tags: Bonds, Brazil, Chief Investment Strategist, Credit Quality, Credit Risk, Debt Credit, Debt Problems, Downgrades, Emerging Market Countries, Emerging Markets, Fiscal Problems, Global Economy, Index Data, Ishares, J P Morgan, Macroeconomic Problems, Market Exposure, Morgan Research, Risk Index, Scor, Sovereign Debt, Sovereign Risk
Posted in Bonds, Brazil, Markets | Comments Off
---
Friday, August 26th, 2011
The Absolute Return Letter
August 2011
Why U.S. of AA Matters
by Niels Jensen, Absolute Return Partners
We have never published the Absolute Return Letter before in August and, hopefully, we will never have to do it again; however, the unprecedented events of recent days and weeks have forced our hand. I will make it short, though. August is for reading, not writing.
Unless you've spent the last few days on another planet you will know by now that Standard and Poors chose to downgrade U.S. sovereign debt to AA+ last Friday evening. A U.S. downgrade is, in itself, almost meaningless. A nation that issues debt denominated solely in its own currency and which is in full control of its monetary policy, cannot default unwillingly. Nations default because they run out of foreign currency to service their debt, but the U.S. doesn't need foreign currency to service its debt. One could thus argue that the rating agencies shouldn't even bother to rate U.S. sovereign risk. But they do. And one of them has now decided that U.S. sovereign is no longer AAA. So what does it mean? Near term, other U.S. financial institutions (Fannie Mae? Freddie Mac? JP Morgan?) will be downgraded as a result – perhaps as early as today or tomorrow. Following that, if Standard & Poors wants to maintain whatever credibility it has left, it will probably have to downgrade a few sovereigns as well. France springs to mind; it is not far behind the US as far as profligacy is concerned, and it may prove difficult for Standard and Poors to justify the AAA rating it currently assigns to France.
If France is downgraded, a number of French banks will almost certainly be downgraded, following which other European banks will face the same destiny. Such a scenario has the potential to cause calamity across Europe. The 90 European banks which recently went through the (socalled) stress test organised by the European Banking Authority need to roll a total of €5.4 trillion1 (!) of debt over the next 24 months. A massive amount even during the best of times. Probably undoable during times of stress. As Ambrose Evans-Pritchard, in consultation with Willem Buiter of Citigroup, pointed out in the Daily Telegraph over the weekend2:
"…the issue is not how long Italy and Spain can ride out the storm in bond markets. There would be a banking and insurance crisis long before sovereign defaults came into play, simply because the fall in bond prices on the secondary market is causing carnage to bank books (among other transmission mechanisms)."
With its downgrade of U.S. sovereign debt, Standard and Poors has started a chain of events which can only make things worse in an already crisis hit eurozone. For that reason, the decision to downgrade was not only badly timed but also ill considered; that it was probably justified is of little relevance at the moment.
In another development this morning, the ECB has announced that it is expanding its bond purchasing programme to include the entire eurozone – thereby implying that it is now buying Spanish and Italian government bonds. The effect has been immediate with Spanish and Italian 10-year bond yields falling 60-70 basis points. European stock markets, on the other hand, are not visibly impressed. After an initial rally, most markets are now down as investors fret over the longer term growth outlook in the eurozone.
Tags: Absolute Return, Bonds, Calamity, European Banking, European Banks, Fannie Mae, Financial Institutions, Foreign Currency, Freddie Mac, French Banks, Friday Evening, Investment Outlook, Jp Morgan, Last Friday, Niels Jensen, Outlook, Sovereign Debt, Sovereign Risk, Sovereigns, Standard And Poors, Stress Test, Unprecedented Events
Posted in Bonds, Brazil, Markets, Outlook | Comments Off
---
Thursday, August 11th, 2011
Remember how we joked (but were dead serious) that the IMF is now simply a figurehead organization, and the real global bailout cop is China? Well, that may not be the case for much long. Reuters has just broken news that at least one bank in Asia, and five other in process, has cut credit lines to major French lenders "as worries about the exposure of French banks to peripheral euro zone debt mounts, banking sources told Reuters on Thursday." Why is this worrying? Because as is by now well-known, the PBoC has been as aggressive a buyer in the primary market of European market as most European banks, which as is well-known immediately turn and pledge said debt as collateral to the ECB for 100 cents on the euro, and the fact that its proxies are now quietly withdrawing from the European market as lenders of last resort, is probably far worse news than a rumor that the S&P may cut France.
That sudden rise in risk perception, combined with sharp share price falls in French banks, prompted some banks in Asia to speed up reviews of counterparty risk and look at whether they should cut exposure to European lenders, sources at each of the six banks in Asia said. Contacted about the moves by the banks in Asia, a spokeswoman for top French lender BNP Paribas <BNPP.PA> in Paris said: "We never comment on market rumours."

Societe Generale <SOGN.PA> had no immediate comment to make while a spokeswoman for Credit Agricole <CAGR.PA>, which will publish its second-quarter earnings later in August, said the bank would not make any comment.

The banks in Asia and the sources — a mix of risk officers, senior traders and loan bankers — could not be identified because of the sensitive nature of the information.

The head of treasury risk management for Asia at one bank in Singapore said their credit lines to large French banks had been cut because of the perceived risks in lending to these counterparties.

"We've cut. The limits have been removed from the system. They have to seek approval on a case-by-case basis," the treasury risk official said. The bank official declined to name the French banks.

A senior credit trader in Singapore said that when a bank's shares fall that sharply their risk officer will automatically look at how much exposure they have to that lender.
And more:
Banks' heightened responses could exacerbate the market strains if they all acted simultaneously with portfolio-at-risk modelling, analysts said.

"The thing is if they all use it at the same time they will all sell at the same time when risk goes up, and that will drive prices down and it is like a snowball because then the prices go down and then your value-at-risk ratio will tell you 'oh, I must reduce my risk even more'," said Mark Matthews, head of research at Julius Baer.

Several of the traders and bankers in Asia said that while they had not cut all exposure to any particular institution, they were very cautious about taking on new trading positions with them.

A senior risk officer at a bank in Singapore said "obviously we are having a review", when asked if they were reassessing their positions with European counterparties.

Bankers and risk officers at the five institutions in Asia that were still dealing with French banks said that while short-term lending of up to 30 days was still taking place, they were conducting a thorough review of longer-term credit lines regardless of the type of transaction.

"It's all in relation to (our) take on a French bank's credit risk, regardless of whether it's a swap or interbank lending transaction," said a senior loan banker at a Japanese bank.
What happens next is well known to anyone who lived through the fall of 2008: credit lines withdrawn means investors dumping stock in droves, means depositors staging physical money runs, means more credit lines withdrawn, means immediate liquidity crunch, means rumors of insolvency, means self-fulfilling prophecy, means scramble to get funding first from ECB, then from Fed, but by then contagion has spread and the entire financial system is in danger of imploding, means several trillion in FX swap lines activated to prevent a run on the dollar, which also happens to be the funding currency, means another scramble to bail out capitalism.
Granted this is a downside case assessment.
Copyright © ZeroHedge.com
Tags: Asian Banks, Bailout, Bnp Paribas, Bnpp, Cagr, China Well, CréDit Agricole, ECB, Euro Zone, European Banks, French Banks, Market Rumours, Pboc, Risk Perception, Second Quarter Earnings, Self Fulfilling Prophecies, Sensitive Nature, Societe Generale, Sovereign Risk, Treasury Risk Management
Posted in Markets | Comments Off
---
Friday, July 8th, 2011
Another day, another implosion in Italy, this time focusing on core bank UniCredit, which earlier dropped by 6.5% resulting in a stock halt, only to reopen just modestly higher. There was no immediate catalyst, just more of the same: rumors that FinMin Tremonti is resigning, especially following the arrest of Marco Milanese which indicates the fallout is imminent (see below), rumors that Italian banks are failing stress tests, rumors that Italy has the most exposure to Greece, and other generalized fears which today coalesced around the bank that was the most active today on the European version of Sigma X.
In other news, 2-Year government spreads are once again surging as GDP-weighted EU sovereign risk is at fresh all time highs (probably to make company to the Dow Jones Transportation index).
UniCredit stock plunging:
Most active Goldman's European dark pool:
2 Year spread moves this week:
And from Reuters on the Milanese affair, explaining why Tremonti is about to go, pushing the Italy domino over:
Italian Prime Minister Silvio Berlusconi declared on Friday he would not run again when his term expires in 2013, as fresh squabbling hit his government and his economy minister was drawn into a corruption investigation.

In an interview with the daily La Repubblica, Berlusconi repeated remarks that he has made on a number of occasions in recent months, saying that he would not run again and nominating Justice Minister Angelino Alfano as his preferred successor.

He also made disparaging comments about Economy Minister Giulio Tremonti, whose position has been weakened by disputes with other ministers and who came under pressure on Friday after the arrest of one of his closest associates.

"If I could, I would give it up now," Berlusconi was quoted as saying by the newspaper, one of his fiercest media critics. "I am not resigning … but one could want to."

The problems facing Tremonti, widely credited with shielding Italy from the crisis through his rigid insistence on deficit-cutting measures, grew after Naples prosecutors filed a request for the arrest of his former adviser Marco Milanese on corruption charges.

Tremonti, who until Thursday night used to stay in a house belonging to Milanese for part of each week when he was working in Rome, issued a statement saying he had moved out after magistrates raised the graft allegations.

The fresh troubles for the government came as pressure on Italy, one of the world's most heavily-indebted countries, mounted on financial markets already on high alert over the escalating euro debt crisis.

The premium investors demand to buy Italian debt rather than benchmark German bonds widened to its largest since the introduction of the euro more than a decade ago.
Tags: All Time Highs, Angelino, Closest Associates, Core Bank, Corruption Investigation, Dark Pool, Dow Jones, Dow Jones Transportation, Economy Minister, Giulio Tremonti, Italian Banks, Italian Prime Minister, La Repubblica, Media Critics, Prime Minister Silvio, Prime Minister Silvio Berlusconi, Silvio Berlusconi, Sovereign Risk, Stress Tests, Transportation Index
Posted in Markets | Comments Off
---
Wednesday, June 8th, 2011
An oportunity to add to Canadian bond holdings has arisen recently as spreads have weakened in Canadian Provincial bonds, says BCA Research.
Since March, spreads between Provincial bonds and Government of Canada bonds have widened, partially on account of heavy springtime provincial bond issuance. Provincial Budget restraint has also contributed, as concerns about some of the provinces; commitments arose.
Fitch, citing some of these concerns, cut its credit rating outlook for Ontario to negative. Even with these concerns at the provincial level coupled with uncertainty from European sovereign risk, which are both adding to the widening of spreads, default risk among provincial bonds is for all intents and purposes, zero.
It is worthwhile to consider that during the 90s, the provinces learned important lessons about restraint, and they will find the means to address it.
Voters, of the conservative persuasion will press the provinces to move forward on tightening.
Verdict: BCA favours provincial bonds vs. Government of Canadas, and suggests the current weakness in spreads as an opportunity to increase holdings.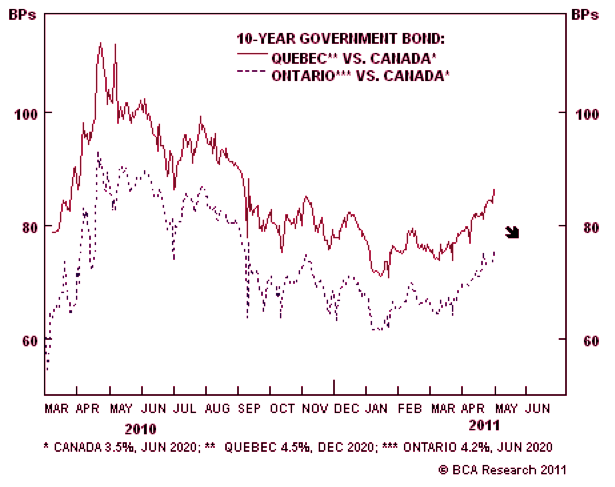 Tags: Bond Holdings, Bond Issuance, Canadian, Canadian Bond, Canadian Bonds, Canadian Market, Commitments, Credit Rating, Current, Default Risk, Government Bonds, Government Canada, Government Of Canada, Government Of Canada Bonds, Intents And Purposes, Oportunity, Persuasion, Provincial Budget, Provincial Level, Sovereign Risk, Springtime, Uncertainty
Posted in Canadian Market, Markets | Comments Off
---
Thursday, August 5th, 2010
It all started almost a month ago when Dagong, the largest credit rating agency in China, took on S&P, Moody's and Fitch.  Dagong issued its first international sovereign risk report on July 11 by giving 27 countries out of the 50 a markedly different rating than the Western big three.
Dagong did not stop there. It also openly slammed the Western rivals in a Financial Time interview that
"The reason for the global financial crisis and debt crisis in Europe is that the current international credit rating system does not correctly reveal the debtor's repayment ability."
Guan Jianzhong, chairman of Dagong later also criticized Moody's, Standard & Poor's and Fitch of becoming politicized, "too close to the clients", ideological and losing their objectivity.
Harold "Terry" McGraw III, the chairman and chief executive of McGraw-Hill companies, which owns Standard & Poor's credit agency, finally went on record and told the Financial Times on August 3 that S&P, Moody's and Fitch Ratings were being made populists' scapegoats.
According to FT, McGraw's populism remark was partially directed to Dagong. McGraw also questioned Dagong's own transparency and methodology, and said "I haven't seen that much on the analysis part."
As for S&P's role in the financial crisis, McGraw said the agency had merely made "a few honest, technical mistakes" to have totally missed on the US housing recession. (You think the House oversight committee would beg to differ?)
Less than 24 hours after, in an exclusive interview with Xinhua, Guan rebuts S&P with some sharp replies as reported by Xinhua:
"The accusation is irresponsible for the western rating firm to label a new-born international rating agency as "populist", instead of carrying out self-criticism on its own highly politicized rating standards.
"Standard & Poor's failed to identify the debtor nations' currency depreciation, which infringed on the interests of the creditor nations, as the sovereign debt default. Such practice is the fundamental cause weighing on the instability of the international credit system,"
Moreover, Quan said the independence of some U.S. rating firms needs to be questioned due to the close relationship between the shareholders and their clients," adding Warren Buffett is the largest shareholder in Moody's.
Interestingly, separate news reports said Dagong might delay its American credit rating market entry plans, after the SEC had in April this year rebuffed Dagong's application, as it does not have local offices or provided ratings services to American companies.
Meanwhile, Standard & Poor's assigned Moody's to a BBB-plus rating on Tuesday. Most likely, Moody's association with Dagong via a three-year co-op agreement back in 1999 probably has absolutely nothing to do with this downgrade.
However, since McGraw did say he thought S&P would come out of the current period "bigger, better and stronger", could Fitch be the next on S&P's downgrade list?
Dian L. Chu, Aug. 5, 2010
Tags: Currency Depreciation, Debt Crisis, Debtor Nations, Financial Times, Fitch Ratings, Global Financial Crisis, House Oversight Committee, Housing Recession, Mcgraw Hill Companies, Objectivity, Populism, Repayment Ability, Risk Report, Rivals, Scapegoats, Self Criticism, Sovereign Risk, Technical Mistakes, Time Interview, Xinhua
Posted in China, Markets | Comments Off
---
Monday, May 31st, 2010
Energy and Natural Resources Market Diary (5/31/2010)
Strengths
The price of crude oil gained nearly 6 percent to $74 a barrel this week in response to global equity markets improving from the prior week and concerns over further drilling restrictions in the Gulf of Mexico.
The price of natural gas gained 7.7 percent to $4.34 per Mmbtu on speculation that hot weather will boost demand for gas-fired electricity.
Bloomberg reports BHP Billiton is asking Sumitomo Metal Industries for $225 per metric ton for met coal for the second quarter vs. $200 per ton for the first quarter.
Power generation in China was up 22 percent year-over-year in April.
Weaknesses
In response to the oil spill in the Gulf of Mexico, President Obama announced new regulations on deepwater oil production that will ban new drilling permits in water depths below 1,000 feet.
ArcelorMittal USA will temporarily idle several blast furnaces and has put on hold some furnace construction work in response to weakening market conditions.
The price of iron ore fines (62%Fe) into China fell for the 13th day in a row according to Platts. Prices fell $1.00/dmt to $144.50/dmt and prices are now down 22 percent since their most recent peak on April 20.
Opportunities
The Chinese Government has approved the merger of Angang and Pangang Groups, which will create China's largest steelmaker with capacity of possibly 56 metric tons per year.
Shanghai Securities News reports that China may start a trial program this month to subsidize cars powered by alternative energy.
ArcelorMittal, the world's largest steelmaker, said it will invest $1.2 billion in Brazil to boost output of steel products for the burgeoning construction industry.
Threats
Rio Tinto Plc Chief Executive Tom Albanese said this week that the Australian government's planned new mining tax has already damaged the country's reputation and is the biggest sovereign risk issue the miner faces across its global portfolio of assets.
Tags: Angang, Bhp Billiton, Blast Furnaces, Brazil, China, Commodities, commodities update, energy, Furnace Construction, Global Equity Markets, Global Portfolio, Hot Weather, Iron Ore Fines, Market Diary, Natural Gas, Natural Resources, Oil Spill, Price Of Crude Oil, Price Of Natural Gas, Rio Tinto Plc, Risk Issue, Shanghai Securities News, Sovereign Risk, Steelmaker, Sumitomo Metal Industries, Tom Albanese, Water Depths
Posted in Brazil, Energy & Natural Resources, Markets, Oil and Gas | Comments Off
---