Posts Tagged 'Downturn'
Friday, June 1st, 2012
by Mark Hanna, Market Montage
While futures may make a U-turn on the jobs data at 8:30 AM they have been weak all morning as economic data from China and Europe overnight was uninspiring. The action this morning makes yesterday's late day surge all the more frustrating as it was another day stop losses for one side or the other (in this case shorts) were easily triggered. If nothing changes in the next few hours the lows of a few weeks ago will be in play today. Also keep in mind U.S. manufacturing ISM is released at 10 AM but the 2 data points today, even if positive, will just be a respite from a global economic and structural (European) malaise. U.S. treasuries continue to surge, and in many way, are doing what QE is supposed to do.
First in China:
China's slowdown worsened in May as its factories saw a further deterioration in demand at home and abroad, dealing a new blow to a global economy struggling with a sharp downturn in Europe and a faltering recovery in the United States. "What's really worrying is new orders have started to shrink and inventories have started to build up at an unusually fast pace," said Dariusz Kowalczyk, senior economist and strategist at Credit Agricole CIB in Hong Kong. "Growth in Q2 is likely to slow, probably below 7.5 percent year-on-year. That puts the annual growth target at risk and the risks continue to increase because the external environment is weakening."
China's official purchasing managers' index – covering China's biggest, mainly state-backed firms – fell more than expected to 50.4 in May, the weakest reading this year and down from April's 13-month high, with output at its lowest since November 2011.
The separate HSBC China manufacturing PMI, tracking smaller private sector firms, retreated to 48.4 from 49.3 in April – its seventh straight month below the 50-mark that demarcates expansion from contraction – with the employment sub-index falling to 48.1, its lowest level since March 2009.
Over to Britain:
Britain's manufacturing sector shrank at its fastest pace in three years in May as orders nosedived, dealing a body-blow to hopes of an early end to recession and raising the chances that the Bank of England will inject more stimulus to boost growth. "This is a collapse, this is a huge decline. We're still a little bit above the lows we hit in the depths of the 2009 recession, but we're heading that way sharply," said Ross Walker, an economist at RBS.
The headline activity index plunged to 45.9 in May from a downwardly revised 50.2 in April, its lowest reading since May 2009 and the second-steepest fall in the survey's 20-year history. Analysts had expected a more modest dip below the 50-point mark that separates contraction from expansion, to 49.8.
Markit said the sharp decline in activity reflected the first contraction in manufacturing output in six months and the steepest decline in new orders since March 2009.
Last in Europe aka Germany
Germany's manufacturing sector contracted at the fastest pace for almost three years in May, albeit more slowly than initially thought, as flagging demand from the euro zone and further afield challenges the country's resilience to the debt crisis. Markit's manufacturing Purchasing Managers' Index (PMI) fell to 45.2 in May from 46.2 in April, but was just above a preliminary estimate of 45.0, final data showed on Friday.
The figure marked the fastest decline in the sector since June 2009. "Germany's manufacturing output continued to lurch downwards in May, with the resilience of the first quarter now giving way to the steepest drop in production levels for almost three years," Markit's Tim Moore said in a statement. The new business index fell sharply to 43.8 in May from 44.9 a month earlier, contracting for the 11th month in a row and new export orders declined at the fastest rate since November 2011.
France was at 44.7 down from 46.9.
Tags: China China, China Manufacturing, Cib, Contraction, Covering China, CréDit Agricole, Downturn, Economic Data, External Environment, Global Economy, Growth Target, Malaise, Mark Hanna, Private Sector Firms, Purchasing Managers Index, Qe, Respite From, Strategist, Treasuries, U Turn
Posted in Markets | Comments Off
---
Monday, May 7th, 2012
by Matt Tucker, iShares
A frequent question that I've been getting from our clients is around the outlook for high yield bonds.  With record low rates creating an income challenge for investors, many are now willing to take on the extra risk involved in a high yield investment in order to potentially add yield to their portfolios – as evidenced by the $29.0 billion in flows into HY mutual funds and ETFs so far this year.  Companies have responded to all this demand by issuing $115.1 billion in new high yield bonds YTD, with most of the proceeds going to refinancing existing debt or to fund general operations.  But all this high yield hubbub begs the question:  Is the high yield trade too crowded?
First, let's review how much more room exists for positive returns.  Almost half of high yield's 4.55% year-to-date return can be attributed to coupon payments, while the remainder was due to capital appreciation from tightening HY credit spreads (currently hovering around 5.5% over US Treasuries, compared to their average level of 6% over the past 10 years).  Today's spreads are lower in part because the level of corporate bond default has been low, at around 2%.  In fact, spreads have typically been 4-5% in similar favorable credit environments, so spreads are actually wide relative to the level of corporate defaults (see chart below).
So why are spreads higher than default rates would seem to suggest?  The answer is volatility and uncertainty.  The forward path of the US economy is still somewhat murky.  Our view is that we will remain in a period of low but steady growth for a while, but there are risks that we could see another downturn.  The European debt crisis is the other major market dynamic weighing on investors.  As the crisis continues without a clear long term solution, investors are naturally more skittish.  This skittishness, along with the concerns about the US economic outlook, results in investors demanding a higher level of yield for taking on high yield corporate bond risk.  The extra risk premium is what is keeping credit spreads higher than the default outlook would suggest.
Overall, high yield spreads appear to be at a reasonable level, since investors are being paid both for the level of defaults as well as the level of global investment uncertainty.  If you are an investor with a long-term time horizon and can handle some volatility, then high yield could still be an attractive place to invest.  If high yield spreads reach levels seen in 2004-2006, the bonds could have additional capital appreciation.  However, investors have to be aware that negative economic surprises, especially in the US or Europe, could impact prices along the way.
With all this discussion of high yield bonds, it's important to think about the suitability of these investments in your portfolio.  While HY experiences about half the volatility of equities, the bonds are still more volatile than investment grade bonds.  However, with yield levels around 7%, yield-hungry investors may find them worth the risk.
Sources: Barclays Capital, Moody's, Morningstar and Bloomberg as of 3/30/2012
Bonds and bond funds will decrease in value as interest rates rise. High yield securities may be more volatile, be subject to greater levels of credit or default risk, and may be less liquid and more difficult to sell at an advantageous time or price to value than higher-rated securities of similar maturity.
Tags: Bond Default, Capital Appreciation, Corporate Bond, Corporate Defaults, Coupon Payments, Crowd Pleaser, Debt Crisis, Default Rates, Downturn, Economic Outlook, ETFs, Favorable Credit, Frequent Question, High Yield Bonds, High Yield Investment, Hubbub, Long Term Solution, Matt Tucker, Outlook Results, Treasuries
Posted in Markets | Comments Off
---
Thursday, April 26th, 2012
by Randy Frederick, Managing Director of Trading and Derivatives, Schwab Center for Financial Research
Key points
Collars combine a covered call and a protective put.
Collars help you cost effectively protect a position that you're not ready to sell—but they limit your upside potential.
A put spread collar is a sophisticated strategy for experienced option traders that can allow for more upside profit potential if you're willing to take a little more risk on the downside.
A collar is a risk-management strategy that combines a covered call and a protective put. An investor who establishes a collar is usually concerned with protecting a position in a cost effective way. While a collar can provide short-term protection against a downturn in the stock, it also limits upside return.
But what if you only need some downside protection—for example, if you think a potential downturn will be limited and not catastrophic in scope. Or, what if you want more upside potential, but without spending any additional money?
If either of these scenarios applies to you, consider a put spread collar.
What is a put spread collar?
As with a traditional collar, a put spread collar is usually set up so that both the long (protective) puts and the short (covered) calls are out of the money, but with the same expiration date. However, with the put spread collar, the long put position can be purchased much closer to the money than the short call position and the difference in price is offset by the sale of a farther out-of-the-money put position.
This structure allows for greater upside potential, with less downside risk when there is only a small decline in the price of the stock. However, if there is a big decline, downside losses could be significant. A put spread collar is essentially a covered call combined with a bearish put spread.
An example of a put spread collar
To illustrate this strategy, let's assume that a couple of months ago, you purchased 1,000 shares of XYZ at a price of $26 and since then the stock price has risen to $28.30. You are optimistic about the long-term prospects of XYZ, so you don't want to sell it, but in the short term you're concerned about a possible small pullback. No matter what happens though, you believe there will not be a large decline.
You only have a 2.30 unrealized gain in this stock so you would like to limit your immediate downside risk as much as possible without spending a lot of money. However, because you're bullish you'd like to leave a fair amount of room for the upside too.
The solution may be to establish a put spread collar as follows:
Sell 10 Jun XYZ 35 calls @
Buy 10 Jun XYZ 27.50 puts @
Sell 10 Jun XYZ 25 puts @
Net cost:
1.10
3.20
2.10
Even (plus commissions)
This position ensures that you won't lose more than 0.80 unless XYZ drops more than 3.30 points. However, you can make 6.70 points if XYZ rallies. Your only out-of-pocket expense would be the commission charges. Let's take a look at this strategy (as of expiration date) on a profit and loss graph.
Profit and Loss for a Put Spread Collar
Source: Schwab Center for Financial Research.
As you can see in the chart above, based on the starting price of 28.30, your profit, loss and breakeven thresholds at expiration are:
Below $25 there is downside risk to zero. The maximum loss is 25.80 or -$25,800 if XYZ drops all the way to zero.
From $25 to $27.50, the loss is limited to .80 points or -$800.
From $27.50 to $28.30, the loss will range somewhere between -$800 and $0.
From $28.30 to $35, the gain will range from $0 to $6,700.
At $35 or above, the gain is capped at a maximum of $6,700.
Like a traditional collar, with a put spread collar you can specify how long you need the protection. One nice feature is that the costs should not change materially based on the length of time holding this strategy, because time value affects all the options similarly and the option premiums essentially cancel each other out.
Depending upon the price of XYZ at expiration, some of the options could expire worthless, get assigned, or be exercised, so in order to reach the profit and loss scenarios described above, let's compare the put spread collar to a similarly structured (zero cost) traditional collar.
The table below identifies exactly what takes place at each price point. For comparison purposes, let's assume all positions are purchased when XYZ is at the current market price of $28.30.
How Do They Stack Up? A Traditional Collar vs. a Put Spread Collar
Source: Schwab Center for Financial Research.
In the table, you can see that the traditional collar and the put spread collar have essentially the same initial cash outlay (not including commissions) and gains and losses at prices between $25 and $29.
However, at prices below $25, losses will not exceed $800 on the traditional collar but will continue to get worse as the stock drops on the put spread collar. Because the put spread collar is short 25 puts, they will need to be closed out in the market, and the farther the stock drops the more expensive this will be. The maximum loss on the put spread collar is -$25,800. Essentially the downside protection on the put spread collar ends if XYZ drops below $25.
At prices above $29, gains will not exceed $700 on the traditional collar but will continue to grow on the put spread collar until a price of $35. At all prices above $35, the maximum gain on the put spread collar is $6,700. This additional $6,000 of potential upside opportunity is the trade-off for the extra risk taken below 25.
The bottom line is that a put spread collar is only appropriate when you are trying to protect against a modest decline in price—not a severe decline.
What to keep in mind
A put spread collar is a unique strategy, suited for specific situations so I'd like to conclude with a summary of its benefits and risks:
Benefits
Provides limited downside protection at very low or potentially zero cost.
Allows for greater upside profit potential versus a traditional collar.
If the stock stays within the range of the call option and the higher strike put, the cost is zero or very low and all options expire worthless.
Risks
While this strategy does limit risk somewhat, if the stock declines below 25 your losses could be quite significant.
Anytime you sell a call, you have established a maximum selling price for your stock. While this strategy does allow for greater upside potential, if the underlying stock moves substantially above the short call strike price, your profit potential will still be limited.
If your short calls go in-the-money, you could be assigned at any time.
All options eventually expire, and the benefit of this strategy ends at expiration.
Because a put spread collar is a spread, you have to be approved for spread trading in order to utilize this strategy.
For additional information on this strategy or for assistance with other options strategies, please contact a Schwab Trading Specialist at 800-435-9050.
Important Disclosures
Options carry a high level of risk and are not suitable for all investors. Certain requirements must be met to trade options through Schwab. With long options, investors may lose 100% of funds invested. Please read the options disclosure document titled Characteristics and Risks of Standardized Options before considering any option transaction. Call Schwab at 800-435-4000 for a current copy.
With long options, investors may lose 100% of funds invested. Multiple-leg options strategies will involve multiple commissions. Spread trading must be done in a margin account. Covered calls provide downside protection only to the extent of the premium received and limit upside potential to the strike price plus premium received. Writing uncovered options involves potentially unlimited risk.
Commissions, taxes and transaction costs are not included in this discussion, but can affect final outcome and should be considered. Please contact a tax advisor for the tax implications involved in these strategies.
Past performance is no indication (or "guarantee") of future results. The information provided here is for general informational purposes only and should not be considered an individualized recommendation or personalized investment advice. The investment strategies mentioned here may not be suitable for everyone. Each investor needs to review an investment strategy for his or her own particular situation before making any investment decision. Examples are not intended to be reflective of results you can expect to achieve.
Tags: Covered Calls, Decline, Derivatives, Downside Protection, Downside Risk, Downturn, Expiration Date, Investor, Losses, Managing Director, Nbsp, Option Traders, Puts, Risk Management Strategy, Scenarios, Schwab, Scope, Sophisticated Strategy, Spread Collar, Xyz
Posted in Markets | Comments Off
---
Thursday, April 26th, 2012
by Peter Tchir, TF Market Advisors
I think we all know now what the Fed is thinking. Ben is happy to add more liquidity to the system but is constrained by a group that needs to see bad data before they can support him. I think it is pretty straightforward on the economic data front. Bad data, particularly in jobs and housing will make the Fed react, but it will take some actual bad data, not just "blah" data like we have had the past few weeks.
The bigger question is how quickly would Ben respond to a decline in the stock market? Although the Fed made it clear they focus on the economy, there is strong evidence that they would react to a downturn in the market, but I think they would be reluctant to move unless we saw a significant move. Without weak data, I don't think the Fed is in position to do anything until the S&P 500 broke 1,300 and bank stocks were under pressure. So there is a Bernanke put, but I think that put is much farther from "spot" than many investors believe.
Now that the Fed is out of the way, what else is there? Pretty much just the ECB is left with any near term ability to "fix" the markets. The IMF has raised its "firewall". What the firewall accomplishes is beyond me, but in any case, rumors of a big firewall cannot help the markets anymore, so it really is going to take the ECB to provide any form of government or central bank stimulus. Otherwise we are left with earnings, which as I said on Bloomberg TV last night, are okay, but not great. There have been some big "beats", with AAPL being the most obvious, but there has been some weak guidance, and pretending that analysts don't set "beatable" numbers is a bit silly. The game is clearly to set estimates that companies can "beat" them, so unless it is an extremely big beat, don't get too excited, and we do also seem back to a stage where some of the biggest earnings beats have been from companies that took great pains in what they categorized as recurring or one-time charges.
Yesterday's short covering rally in Europe seems over. Today in CDS, Spain is 10 wider, at 475, while Italy is only 3 wider, helping confirm that most of yesterday's price action was short covering as the most illiquid and most "beat up" names outperformed. Spanish 10 year bonds are back out to 5.85% and briefly getting below 5.7% yesterday. Remember when 15 bps was a week's worth of trading, and not 24 hours? That continued lack of liquidity remains a concern.
The economic data this morning should move the markets, and for once, I think bad news will be bad, and good news will be good, as the Fed's position is pretty clear.
Then we will likely spend the entire afternoon tracking moves in AAPL, since if not yet at the stage of "national pastime" is certainly the main thing for traders to focus on in the absence of any other news.
Fixed income ETF's performed extremely well again yesterday, with both HY ETF's doing extremely well. I cannot find much to like about HYG and JNK at these prices. The underlying bonds that drive the yield are getting sketchy at these prices. While high yield still offers value, I think it is key to find some alpha as most of the beta has been squeezed out. Looking for specific credits and specific bonds for those credits is the most important it has been in at least a year (from the long risk standpoint).
Copyright © TF Market Advisors
Tags: Aapl, Amp, Bank stocks, Beats, Bernanke, Decline, Downturn, Earnings, ECB, Economic Data, Estimates, Firewall, Form Of Government, Guidance, Imf, liquidity, Nbsp, Stimulus, Stock Market, Tf
Posted in Markets | Comments Off
---
Wednesday, April 18th, 2012
April 13, 2012
by Liz Ann Sonders, Senior Vice President, Chief Investment Strategist, Charles Schwab & Co., Inc.,
and Brad Sorensen, CFA, Director of Market and Sector Analysis, Schwab Center for Financial Research,
and Michelle Gibley, CFA, Director of International Research, Schwab Center for Financial Research
Key Points
Economic data has softened a bit lately but still indicates growth in the United States. After a long stretch of relative calm in the markets, we've seen the markets pull back, possibly fulfilling the correction that was overdue. We believe the longer-term trend is higher but near-term risks continue to be elevated and earnings season could bring more volatility.
After a couple weeks of shifting perceptions regarding what the Fed's next move may be, the minutes from the most recent meeting seemed to solidify the notion that another round of quantitative easing (QE3) is not in the offing. Although the stock and bond markets initially reacted negatively, we are heartened by the rhetoric.
European debt fears have flared up again in Spain and Italy and we believe risks are elevated and may not be fully appreciated. Meanwhile, China's response to slowing growth has been surprisingly slow and risks of a misstep are rising, although we still remain optimistic in the longer term.
After the best first quarter stock performance since 1998, based on the S&P's 12% return, and the recent pullback in the markets, investors may be wondering what's next. Can the market resume its move higher? Was the correction enough to heal overbought conditions and elevated investor sentiment? What will be the catalyst for the next move?
There hasn't been a shortage of commentary suggesting that a pullback in equities was overdue and needed for the next leg higher. But now that we've seen a pullback, concerns are suddenly growing that we could be in for an extended downturn. Although risks are elevated, currently we don't believe the correction to-date represents a shift in the recent upward trend in stocks. In fact, we can look back at similar periods and find some heartening information. According to our friend Ed Yardeni at Yardeni Research there have been 17 times in the last 66 years that each of the first three months have posted positive S&P 500 returns. The average total yearly return for those 17 years was 20.2%, with none of those years posting a negative return. But with such a great head start, that might not be all that meaningful for the rest of the year. However, according to Ned Davis Research, there have been 11 instances since 1930 where the S&P 500 posted returns above 10% in the first quarter. The median return for the following three quarters was 6.95%, with all but two posting positive returns for that time period.
Additionally, the recent correction has helped push the Ned Davis Research Daily Sentiment Composite into excessive pessimistic territory, sharply reversing the overly optimistic sentiment seen just a few weeks ago. Negative investor sentiment has tended to be a contrary indicator and we believe is a positive development for the market as we move forward.
One more bit of historic data regarding the interplay between stocks and bonds. Bonds have had a decade-long run that has seen interest rates sink to historically low levels and we have warned investors that may be overallocated to bonds that a reversal to the mean may be in store. Capital appreciation on bonds is by definition capped as interest rates can only go to zero, which we're not that far away from on Treasury securities. Furthering that warning, according to Bespoke Investment Group, when equities have outperformed bonds substantially (above 10%) for two quarters in a row, which just occurred and has happened nine previous times, the average equity return in the following quarter has been 4.6%, while bonds have averaged a decline of 0.5%. And we may be seeing that shift from bonds to equities begin as the week ended March 23rd, according to EPFR Global, saw outflows from long-term government bond funds of $1.01 billion, the largest amount on record (thanks to Barron's for pointing this out). However, we must caution investors that are investing in bonds and bond funds for income purposes that they still remain the most appropriate predictable income investment vehicle in most cases, and the vast majority of investors should maintain at least some exposure to bonds based on income needs and risk tolerances.
Earnings to take the reins?
Recent US economic data has raised some questions among investors as to the sustainability of the economic expansion. We share some of those concerns as confidence remains tenuous, the political situation is messy, the European debt crisis rages on, and Chinese growth has slowed. But we maintain confidence that the economic expansion is continuing and should continue for the foreseeable future. The Institute for Supply Management's (ISM) manufacturing survey rose to 53.4, with a reading above 50 indicating expansion. Additionally, the employment component moved to 56.1 from 53.2, and while new orders dropped slightly, it still remains solidly above 50. The service side of the ledger also continues to show expansion as the ISM Non-Manufacturing Index posted a reading of 56.0.
The job picture got a little murkier with the latest report. Although ADP reported that March private payrolls expanded by 209,000 positions and February was revised higher, the Labor Department said that only 120,000 jobs were added, below expectations and contributing to the pullback in stocks. Positively, the unemployment rate dropped to 8.2%, still elevated but well off its high. Leading indicators of job growth such as initial unemployment claims continue to suggest that the March reading may prove to be an outlier and/or a natural pullback after the strong weather-related gains in the first two months.
In fact, the improving job picture appears to be bolstering the consumer, as retail sales numbers have been relatively positive and we've seen auto sales continue to rebound after a sharp drop-off.
Auto sales indicate increased confidence

Source: FactSet, U.S. Bureau of Economic Analysis. As of April 10, 2012.
And we'll be getting more information at the corporate level over the next several weeks as first quarter earnings season heats up. There appears to be more uncertainty heading into this season than we've seen recently, but we have seen analyst forecasts revised higher recently. This reporting season could provide the next near-term catalyst for the markets as some positive surprises and commentary could provide further fuel, while disappointment could move stocks lower. One advantage we may have is that expectations entering the season appear relatively low, with Yardeni reporting that as of April 6 analysts are expecting S&P 500 companies' earnings to only grow 2.4% over last year, which would be the slowest rate since the third quarter of 2009, providing the opportunity for upside surprises. Additionally, according to Strategas Research Partners, the negative-to-positive preannouncement ratio was 3.0 for the first quarter and they note that when the ratio has been above 2.1, the stock market in the month after the end of the quarter has risen 2.2%, while declining 0.3% when the ratio is below 2.1. One thing we'll be continuing to watch will be commentary surrounding the massive cash that being stored on balance sheets and how it may be used in the future.
Corporate liquidity near an all-time high

Source: FactSet, Federal Reserve. As of April 10, 2012.
Fed continues to confound
The above chart helps to illustrate why we believe that another round of quantitative easing (QE3) seems unnecessary. There is plenty of liquidity in the economy and pumping more in would seem to us to do little good. It appears the Federal Reserve may be starting to move toward that view as well, or at least they're becoming more confident in the economic recovery. The recently released minutes from their March meeting indicates that there isn't much appetite on the Committee for QE3. Although stocks and bonds had an initial negative response, much like a child wobbling on a bike after a parent lets go for the first time, we believe Fed support needs to slowly be withdrawn so the economy can ride on its own.
European debt risks flare up
Contrarily, The European Central Bank (ECB) appears anxious to shove its kid on a bike as soon as possible with lagged and tepid responses to the ongoing debt crisis. That said, its three-year loan liquidity injections early this year did buy time for banks and governments and reduced the imminent threat of a banking system collapse. However, the sugar high may have lulled investors into a false sense of security, as the eurozone debt crisis was merely put on pause.
While it may be an oversimplification, the elevation to a crisis situation boils down to confidence. Loss of confidence can become a self-fulfilling prophesy, as we witnessed with Lehman Brothers in 2008. Therefore, in order to maintain investor confidence, European policymakers have to continue to make progress toward reducing deficits, meeting fiscal targets, making structural changes to provide a foundation for growth, and implement backstops in case things deteriorate.
However, instead of making progress, confidence is being slowly eroded by backward moves:
In Italy, Prime Minister Mario Monti's labor reform proposal has been watered down.
France's presidential election on April 22 and May 6 could result in a change of leadership to presidential candidate Francois Hollande, who has pledged to renegotiate the eurozone fiscal pact.
Greece's general election, which could occur around May 6, could result in a weak coalition government, increasing the possibility of missed quarterly bailout funding targets.
Even the Netherlands, considered a core country and a strong proponent of fiscal discipline, admitted it too would run afoul of the European Union's 3% deficit target in 2012, resulting in the need for austerity cuts.
But due to the size of its economy and debts, weak economic outlook and banking system, Spain is the elephant in the room that cannot be ignored. Eurozone debt concerns flared up after Spain announced it would miss its 2012 deficit target.
The Spanish economy has an uncertain and risky outlook as evidenced by unemployment still rising from an already high 24% and a housing bubble that is still deflating. Additionally, private sector debt in Spain grew dramatically during the housing boom and the risk is that Spanish banks could face more problems in the future because losses on private sector debt are likely to rise. As a result, bank problems could be inherited by the sovereign, because banks could need government aid.
The interaction between the economy, the banks and the sovereign can feed off each other and exacerbate the situation, and it may take only a minor deterioration in one or two areas for a negative spiral to take effect in Spain. We believe Spanish banks likely need more capital as a buffer, but we don't believe Spain's government is in imminent need of a bailout. However, markets are nervous that Spain's situation could deteriorate, necessitating a bailout over the next couple years.
Eurozone concerns remain, particularly for Spain

Source: FactSet, iBoxx. As of Apr. 10, 2012.
We are discouraged that the combination of deterioration in Spain and the ECB reiteration that emergency measures are temporary has been able to have such a large impact on Italian yields. While the region's bailout funds were somewhat boosted by combining the temporary European Financial Stability Facility (EFSF) with the longer-term European Stability Mechanism (ESM) for a year, an even bigger firewall may be needed.
Global growth moderating
The focus on austerity in the eurozone misses the need to foster the absent ingredient- growth. Economic releases over the past month have shown a generalized renewed economic weakness in Europe and continued declines in credit indicate growth will be difficult to achieve.
Meanwhile, the Asia/Pacific region is also under downside pressure. As discussed later, China's economy continues to soften. Many Asian nations have close ties to the Chinese economy, and a slowdown in commodities and goods exports to China is reducing their growth.
As for Japan, the world's third largest economy, economic data has been mixed. Japan's leading index has continued to trend higher and there has been a recent rebound in machinery orders. However, Japanese household spending remains weak and despite an increase in the Bank of Japan's (BoJ) asset purchase program in February, money supply dropped in March, and the quarterly Tankan survey showed business confidence has failed to improve. In contrast to the BoJ holding off on new measures in its April meeting, we believe the BoJ needs to do more and make good on its promise of pursuing "powerful easing" to create inflation and weaken the yen.
Likewise, somewhat disheartening is a slight change in tone by central banks elsewhere. For example, despite downside risks to economic growth, the Reserve Bank of Australia and the ECB also held off on easing at their recent meetings amid signs of inflation picking up. We believe inflation pressures will continue to ease globally as we move through the year, as food prices have fallen and oil prices could have downside risks as global growth slows and geopolitical pressures ease. This could give central banks more leeway to ease in the future.
China continues to slow, but crash unlikely
We believe markets had been underestimating the risks in Europe and over-emphasizing the possibility of a hard landing in China. Growth has slowed, but has defied the bearish calls for a crash. However, monetary easing has been disappointingly slow. We had believed that a sharp drop in inflation and money supply would allow stimulus to be enacted sooner. Typically an economy needs growth in money supply and lending to grow. Money supply has been growing at a slower pace than nominal economic growth, pressuring economic growth.
China likely slows amid modest money supply growth
Source: FactSet, National Bureau of Statistics of China, People's Bank of China. As of Apr. 10, 2012.
* Excess liquidity is M2 money supply less nominal GDP
The Chinese government is playing a balancing game that has increasing risks of missteps. We are encouraged by early signs of a reacceleration in lending that could boost economic growth. Elsewhere, the government is trying to reduce imbalances in the economy and transition away from dependence on exports as well as building factories and infrastructure. While removing imbalances may be good over the long-term, the ability of the government to micro-manage an economy that is now the world's second largest is becoming more difficult. Real progress toward a transition is likely to require tough political decisions and reforms, and miscues could make for a bumpy ride.
Read more international research at www.schwab.com/oninternational.
Important Disclosures
The MSCI EAFE® Index (Europe, Australasia, Far East) is a free float-adjusted market capitalization index that is designed to measure developed market equity performance, excluding the United States and Canada. As of May 27, 2010, the MSCI EAFE Index consisted of the following 22 developed market country indexes: Australia, Austria, Belgium, Denmark, Finland, France, Germany, Greece, Hong Kong, Ireland, Israel, Italy, Japan, the Netherlands, New Zealand, Norway, Portugal, Singapore, Spain, Sweden, Switzerland and the United Kingdom.The MSCI Emerging Markets IndexSM is a free float-adjusted market capitalization index that is designed to measure equity market performance in the global emerging markets. As of May 27, 2010, the MSCI Emerging Markets Index consisted of the following 21 emerging-market country indexes: Brazil, Chile, China, Colombia, the Czech Republic, Egypt, Hungary, India, Indonesia, Korea, Malaysia, Mexico, Morocco, Peru, Philippines, Poland, Russia, South Africa, Taiwan, Thailand and Turkey.The S&P 500® index is an index of widely traded stocks.Indexes are unmanaged, do not incur fees or expenses and cannot be invested in directly.Past performance is no guarantee of future results.Investing in sectors may involve a greater degree of risk than investments with broader diversification.International investments are subject to additional risks such as currency fluctuations, political instability and the potential for illiquid markets. Investing in emerging markets can accentuate these risks.The information contained herein is obtained from sources believed to be reliable, but its accuracy or completeness is not guaranteed. This report is for informational purposes only and is not a solicitation or a recommendation that any particular investor should purchase or sell any particular security. Schwab does not assess the suitability or the potential value of any particular investment. All expressions of opinions are subject to change without notice.The Schwab Center for Financial Research is a division of Charles Schwab & Co., Inc.
Copyright © Charles Schwab & Co., Inc.,
Tags: Bond Markets, Charles Schwab, Chief Investment Strategist, Couple Weeks, Downturn, Earnings Season, Economic Data, Investor Sentiment, Liz Ann, Long Stretch, Misstep, Pullback, Qe3, Quarter Stock, Relative Calm, Sector Analysis, Senior Vice President, Stock Performance, Term Trend, Volatility
Posted in Markets | Comments Off
---
Wednesday, April 11th, 2012
Gary Shilling has been more dour than most on the underlying economy the past 3-4 years, and that could be argued was a relatively good call.  Despite never before seen levels of federal government and central bank intervention, the economy continues to limp along at what I call a "meh" pace.  Normal recoveries sans massive intervention should have had some sustained periods of 4-5%+ type GDP growth; we're happy with 2-3% nowadays.  Gary's long U.S. Treasuries call has been against the grain, and mostly right the past few years, and he's had quite a few other prescient calls as well.  Shilling posted 2 articles on Bloomberg, stating the case for a recession in 2012 – which is now again an outlier view.  We'll look at part 1 today, and look at part 2 which focuses on the labor market tomorrow.
Here are some of his views as he looks at the main pillars of the economy:
For several months, I've been forecasting a recession in the U.S. this year, arguing that weakened consumer spending – the key to the economic outlook — would tip the economy back into a downturn.  But what about recent positive data and markets? Do they affect my forecast?
Consumers Are the Linchpin: The U.S. economy is being fueled these days by strong consumer spending, which increased in February by 0.8 percent, its best showing in seven months, after rising 0.4 percent in January. Retail sales rose 1.1 percent in February — the fastest pace in five months — while same-store sales advanced 4.7 percent. These numbers correlate with recent gains in consumer confidence and sentiment.
I don't see this pace continuing. Personal-income growth continues to be weak — up just 0.2 percent in February — meaning this recent exuberant consumer spending is being fueled largely by increased debt and tapping of savings.
At the same time, pay per employee is rising slowly and continues to fall in real terms. So increased job growth remains the key to any increases in real household after-tax income, which declined in February for a second straight month and gained a mere 0.3 percent, compared with February 2011.
Spending, Saving and Debt: The support that consumer spending has received from less saving and more debt appears temporary. Household debt – including mortgages,student loans, and auto and credit-card loans — has fallen relative to disposable personal income, though. In my analysis, this is largely because of write-offs of troubled mortgages. Nevertheless, revolving consumer credit, mostly on credit cards, is no longer being liquidated.
Non-revolving consumer credit continues to rise in response to growing sales of vehicles — most of which are financed — and in student loans, as the poor job market keeps students in school or sends them back. Tuition increases encourage more borrowing, while interest costs on past-due loans mount.  [Mar 8, 2012: What Drove Yesterday's Surge in Consumer Credit? Massive Upswing in Federal Student Loans]
It would seem, then, that contrary to my steadfast belief that consumers are being forced to save more and reduce debt to rebuild net worth, they have been doing the opposite lately.
Consumer Retrenchment: The data so far aren't conclusive, but evidence of U.S. consumer retrenchment is emerging. Consumer confidence has moved up recently but remains far below the levels of early 2007 before the collapse in subprime mortgages set off the Great Recession. Real personal consumption expenditures growth has been volatile in recent months and falling on a year-on-year basis. Voluntary departures from jobs, another measure of confidence, may be decreasing. And consumer spending will no doubt have a big slide if my forecast of another 20 percent drop in house prices pans out. (Mark's note: that seems aggressive!)
Housing activity remains depressed, with the only signs of life coming from the multifamily component, which is being driven by the appetite for rental apartments as homeownership declines.
What Oil Threat?: Recently, there has been great concern about $4 per gallon gasoline and whether, as in 2008, those high prices will act as a tax on consumer incomes and force drastic cutbacks in other purchases.  These concerns are overblown. American consumers have reacted to rising gasoline prices as you would expect in tough times: by consuming less. Demand (DOEDMGAS) in the mid-February to mid- March four-week period was down 7.8 percent from a year earlier, mainly due to more efficient vehicles.
As a result, the recent surge in gasoline prices has had a relatively small impact on consumer purchasing power. The $14.8 billion increase from October 2011 to March 2012, compared with the year-earlier period, amounts to about 0.3 percent of consumer spending.
Conclusion:
Consumer spending is the only major source of strength in the U.S. economy this year. State and local-government spending remains depressed because of deficit woes and underfunded pension plans. Housing suffers from excess inventories and may face a further 20 percent drop in prices. Excess capacity restrains capital spending. Recent inventory building appears involuntary. So consumer retrenchment will tip the balance toward a moderate and overdue recession.
Tags: Bloomberg, Central Bank Intervention, Consumer Confidence, Downturn, Economic Outlook, Federal Government, Five Months, Gary Shilling, GDP, GDP Growth, Market Tomorrow, Massive Intervention, Personal Income Growth, Pillars, Recession, Retail Sales, Sentiment, Seven Months, Tapping, Treasuries
Posted in Markets | Comments Off
---
Tuesday, April 10th, 2012
by Dr. Scott Brown, Ph. D, Chief Economist, Raymond James
April 9 – April 13, 2012
The stock market has risen nicely this year, partly on improving economic data, but are such gains justified by the earnings outlook? The level of the S&P 500 Index does not appear to be out of line with earnings expectations, but there may be some pressure on profits over the longer term. As the election approaches, we may hear more about class warfare.
In the late 1990s, share prices rose more than was justified by the earnings outlook. In hindsight, the market was clearly in a bubble. In the last decade, the market rose roughly in line with earnings. However, the Great Recession sent earnings sharply lower, and the stock market followed. Since the recession has ended, earnings have more than recovered. Bottom-up earnings estimates for more than a year out, compiled from analysts' forecasts of individual companies, still look a bit giddy, but that's typical. Top-down estimates, provided by economists and strategists, are more moderate – and consistent with some slowing in corporate earnings relative to the last few years. That's to be expected. Much of the rebound in earnings has reflected the bounce-back from the recession. Firms have a tendency to cut too many jobs and overly curtail capital expenditures near the end of the downturn and there's some catch-up as conditions begin to improve.

Click here to enlarge
Part of the strength in corporate profits in the recovery has been due to the restraint in labor costs. Given the large amount of slack in the labor market, wage pressures are relatively subdued. Moreover, since the labor market slack is expected to remain elevated for some time, corporate profits are likely to stay relatively strong. As a percentage of national income, corporate profits are very high and labor compensation is relatively low. The share of national income going to profits and the share going to labor cycles back and forth over time and at some point the pendulum seems likely to swing back in the other direction, but probably not anytime soon.

Click here to enlarge
It's hard to have an intelligent discussion about the distribution of income. One side sites "corporate greed," the other sites "class envy." For the most part, economists have generally shied away from income distribution issues. This is mostly a question of politics. It's difficult to say what an "appropriate" distribution of income should be and what steps should be taken to achieve it.
However, there's no doubting that the distribution of income has widened significantly over the last thirty years. Real wages have stagnated. A lot of that is due to the decline of union membership. In the early 1970s, 25% of private-sector jobs were union jobs. Now unions account for less than less than 7% (note that 37% of public-sector jobs are union, but many of these are teachers and the dynamics are a lot different). In the late 1960s and early 1970s, we typically had more than 300 work stoppages per year, involving millions of workers. We had 19 last year, involving 113,000 workers.
It's unclear what role the distribution of income will take in this year's election, but investors should pay attention.
Tags: Capital Expenditures, Chief Economist, Class Warfare, Corporate Earnings, Corporate Profits, Downturn, Dr Scott, Earnings Estimates, Economic Data, Hindsight, Individual Companies, Labor Compensation, Last Decade, Raymond James, Recession, Share Prices, Slack, Stock Market, Strategists, Wage Pressures
Posted in Markets | Comments Off
---
Friday, March 16th, 2012
Why Our Recession Call Stands
by Lakshman Achuthan and Anirvan Banerji, ECRI
Many have questioned why, in the face of improving economic data, ECRI has maintained its recession call. The straight answer is that the objective economic indicators we monitor, including those we make public, give us no other choice.
Let's start with the current state of the economy. A couple of weeks ago, we publicly highlighted ECRI's U.S. Coincident Index (USCI). It's important to understand that the USCI isn't a random concoction of data, but rather the gold standard for measuring current economic growth, as it summarizes the key coincident economic indicators used to determine the official start and end dates of U.S. recessions; namely, the broad measures of output, employment, income and sales. So when USCI growth is in a downturn (bottom line in chart), it's an authoritative indication that overall U.S. economic growth is actually worsening, not reviving.
In contrast to the 3% GDP growth widely reported for the latest quarter, year-over-year growth in GDP, after peaking at 3½% in Q3/2010, has basically flatlined around 1½% for the last three quarters. Broad sales growth has followed a similar pattern, while the growth rates of personal income and industrial production have dropped to their lowest readings since the spring of 2010.
The exception to this weakening pattern is year-over-year payroll job growth, which continued to improve through January, and was essentially flat in February. However, the empirical record shows that job growth typically turns down after downturns in consumer spending growth, not the other way around. Because consumer spending growth remains in a cyclical downturn, we expect job growth to start flagging in the coming months.  But the point remains that the USCI, which summarizes the definitive coincident economic indicators – including jobs – indicates declining growth in the U.S. economy.
How about forward-looking indicators? We find that year-over-year growth in ECRI's Weekly Leading Index (WLI) remains in a cyclical downturn (top line in chart) and, as of early March, is near its worst reading since July 2009. Close observers of this index might be understandably surprised by this persistent weakness, since the WLI's smoothed annualized growth rate, which is much better known, has turned decidedly less negative in recent months. The unusual divergence between these two measures of growth underscores a widespread seasonal adjustment problem that economists have known about for some time.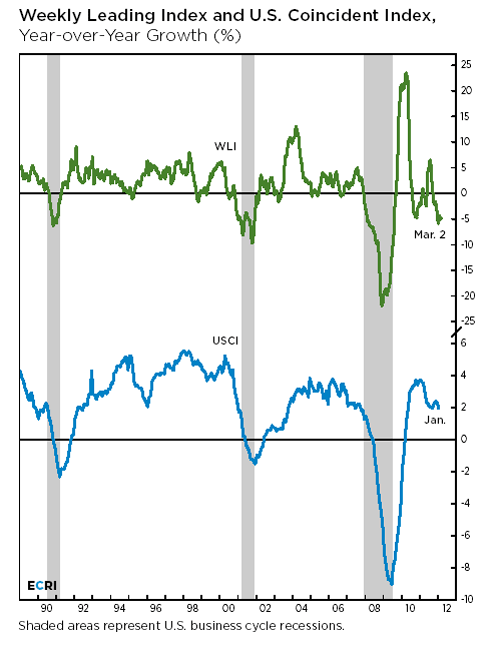 Most data, both public and private, are seasonally adjusted. But the nature of the Great Recession seems to have had an unexpected impact on the statistical seasonal adjustment algorithms that are hard-wired to detect when the seasonal patterns evolve and change over the years. This is normally a good thing, but when the economy fell off a cliff in Q4/2008 and Q1/2009, it was partly interpreted by these procedures as a lasting change in seasonal patterns. So, according to these programs, data from Q4 and Q1 would be expected thereafter to be relatively weak, and therefore automatically adjusted upwards. Our due diligence on this subject indicates a widespread problem, resulting in many recent economic headlines being skewed to the upside.
However, we have no way to objectively measure the extent of these problems – either the upward bias for Q4 and Q1 or the downward bias for Q2 and Q3. Fortunately, year-over-year growth rates are naturally less susceptible to these seasonal issues because they involve comparisons to the same period a year earlier that is likely to be skewed the same way. In contrast, smoothed annualized growth rates, which we have traditionally preferred, presume proper seasonal adjustment. While the extent of the seasonal problem will be debated, monitoring year-over-year growth rates is a matter of simple prudence at this juncture not only for ECRI's indexes but also for other economic data.
In the chart, please note the one-to-one correspondence between the cyclical swings in the year-over-year growth rates of the WLI and USCI since the Great Recession. Both surged initially, only to roll over, pop up briefly, and then turn down once again. It is notable that the WLI, which is sensitive to the prices of risk assets that have been supported by massive worldwide liquidity injections, has hardly been swayed from its recessionary trajectory. In spite of the efforts of monetary policy makers, actual U.S. economic growth has slowed, while WLI growth has barely budged from a two-and-a-half-year low.
The bigger question is, can unprecedented, concerted global monetary policy action repeal the business cycle? The objective coincident and leading indexes that we have always monitored are still telling us that it cannot.
Click here to download an Excel file with the chart data.
Copyright © ECRI
Tags: Coincident Index, Concoction, Consumer Spending, Current State, Downturn, Economic Data, Economic Growth, Economic Indicators, Ecri, Employment Income, GDP Growth, Gold Standard, Lakshman, Personal Income, Q3, Recession, Recessions, Straight Answer, Three Quarters, Usci
Posted in Markets | Comments Off
---
Tuesday, January 17th, 2012
Recently, public interest in gold and silver and gold/silver mining stocks has been at multi-year lows. And that is a super bullish contrarian indicator. In fact, a glance at the Gold Miners Bullish Percent Index illustrates that sentiment to start the year was at a three-year low.
At the end of last year, there was a lot of chatter on the internet, due to the end-of-the year slam down effected on gold and silver futures by the global banking cartel, that silver prices were going go collapse to $20 an ounce and gold prices were going to collapse well below $1000 an ounce by the first quarter of 2012. We felt that these discussions and the consequent, induced panic selling out of gold/silver mining stocks and physical gold/silver at the end of 2011 was highly unwarranted and the result of people falling for the global banking cartel price suppression tricks. In fact, we sent Special Alerts to all of our clients at the end of 2011 informing them that the banking cartel often paints charts in gold and silver to fool people and that one cannot make accurate predictive behavior based upon the assessment of technical charts alone.
At SmartKnowledgeU, it has always been our mantra that technical analysts often make huge mistakes in their predictive calls due to their sole reliance on technical charting and therefore often have to flip-flop like a politician on their calls regarding gold and silver, one moment calling for a huge crash and to sell everything gold and silver, the next moment calling for a huge run-up and to buy back everything gold and silver. While nimbleness is a good trait to have given the volatility of gold and silver assets and staying on the sidelines is sometimes necessary, trying to get out of the market on every single weekly downturn in gold and silver will surely drive an investor insane. Thus, sometimes it is necessary to ride out difficult periods of volatility and maintain your eye on the long-term trend instead of short-term banking cartel tricks. We prefer to remain more long-term trends with our calls and to keep our eyes grounded on a more fundamental outlook that incorporates technical analysis with more than a decade of knowledge regarding global banking cartel price suppression schemes. We have stated since day one of launching our company in 2006 that gold/silver technical analysis performed without incorporating the contextual nuances of global banking cartel price suppression schemes will not be accurate, especially since the cartel's gold and silver price suppression schemes exert the most influence right now over setting the futures and spot prices.
Last year, we informed our clients at the very start of the year in January of 2011 that 2011 would yield massive volatility in gold and silver assets, proclaiming the coming year as "The Year of Volatility". Before the year started, we knew that 2011 would produce a fierce battle between the global banking cartel and the dynamics of the physical markets for gold and silver as the global monetary crisis deepened. And indeed it did. Though we can mark 2011 as a win for the global banking cartel as they collapsed open interest in gold and silver futures repeatedly throughout the year by raising initial and maintenance margins for gold and silver futures (once raising margins on silver futures a ridiculous five times in just 9 days when silver broached $50 an ounce) and by also using the MF Global bankruptcy to force involuntary client liquidation of gold/silver futures at the end of the year, I am confident that all the banking shenanigans of 2011 has set the stage for a spectacular year ahead for PMs in 2012. If you are interested in my thoughts about how the banking cartel used the despicable MF Global fiasco to collapse gold and silver prices, you can read about it here: Did Bankers Deliberately Crash MF Global to Crash Gold and Silver Prices?

In 2011, due to the extreme volatility in gold/silver mining stocks, there were periods we opted to cash out and sit on the sidelines preceding banking cartel smash downs of gold and silver prices, and other periods we opted to stay in the market and ride out the extreme volatility due to our belief that the downside volatility would be short-lived. Thus, admittedly we had to sacrifice short-term performance for our mission of a longer-term reward with the gold and silver mining stocks in 2011. As you can see in the chart below, the HUI Gold Bugs Index re-tested lows in the 490-500 range on five separate occasions last year and greatly underperformed the metals themselves. No wonder bullish sentiment regarding gold and silver stocks just recently hit a three-year low!
However, despite the severe underperformance of the mining stocks last year, from the launch of our Crisis Investment Opportunities portfolio in June 2007 to December 31, 2011, even in light of our slight setback of 2011, our cumulative performance of +135.18% during the past four-and-a-half year period has still respectively outperformed the S&P 500, UK FTSE 100, and Australian ASX200 indexes by whopping +153.12%, +152.37% and +169.20% margins. Furthermore, our Crisis Investment Opportunities portfolio has even outperformed our closest comparable index, the Philadelphia Gold/Silver Sector (XAU) index by a whopping +104.75%. Thus we see 2011, as nothing more than a temporary setback in gold/silver mining stocks, and we'll explain why below.
More than 3 years ago, on October 16, 2008, I wrote an article titled, JS Kim Uncovers Four Parallel Markets for Gold: Asia Futures, NY Futures, Physical Bullion, Physical Coins. In this article, I discussed the complicity of regulatory agencies such as the CFTC in the global banking cartel price suppression scheme executed against gold and silver that was, at the time, creating very significant premiums in the futures and spot prices in Asia over the Western markets, and in physical gold/silver prices over paper gold/ silver prices. Since the time I wrote that article, I have followed up with many more articles that express my belief that the premiums of physical gold/silver will increase, and eventually in exponential fashion, over the prices of bogus global banking cartel-produced paper gold/silver derivative products. Eventually, I believe that the world will ignore these bogus paper gold/silver markets entirely when setting prices for physical gold/silver. Because the global banking cartel expended so many of their bullets in 2011 in keeping the price of gold and silver much lower than their respective free market prices, it is of my opinion that it will be much more difficult for them to contain the price of gold and silver moving forward in 2012.
Today, there are still many reasons to expect a stellar next couple of years from gold and silver performance, including the mining stocks. From a technical standpoint, gold and silver appear to be on the verge of making a very significant run higher. I'm not saying that this will happen tomorrow, but it does look very probable within a short-time period. From a manipulation factor standpoint, gold and silver also look poised for a run higher too. So the two factors I use to assess gold and silver's direction both appear aligned with one another to move gold and silver higher very soon.
As far as the timeframe? Currently, due to excessive banker meddling in gold and silver futures markets, and the unknown factor of when greater divergence will occur between physical and paper PM prices as public awareness of the paper scam grows, the exact "when" part of the equation is the most difficult to assess, though I still believe that we will see some strong moves higher in gold and silver during the first quarter of 2012. Furthermore, I strongly believe that gold and silver will still both rise multiples higher than their current banker-suppressed price and that 2012 will see periods of explosive growth for gold and silver, more so for silver than gold, and that PM mining stocks, although accompanied by great volatility once again, will perform much better than they did in 2011. I believe that the largest difference between 2012 and 2011 will be, despite some continued large bouts of volatility in the PMs, a much stronger annual trend higher for gold and silver.
The start of 2011 was a phenomenal start for junior mining PM stocks but the latter half of the year was very negative. Still, one could have done very well in 2011 with junior mining stocks by taking profits off the table when they existed and letting one's remaining capital ride risk-free in the junior mining sector. In addition to using discipline to protect profits when they exist in the junior mining sector, the greatest friend of a gold/silver investor is patience. Sometimes one knows that great moves higher are coming, but one's timing may be off by a mere six to nine months. Patience will allow one to still reap the bulk of the rewards from these great moves higher as long as one isn't shaken out of the markets by the banking cartel induced price volatility in gold/silver assets. To this end, I leave you with 10-year charts of gold and silver. Sometimes, it really is necessary to step back and take a deep breath to see the forest from the trees.
About the author: JS Kim is the Chief Investment Strategist and Founder of SmartKnowledgeU, a fiercely independent investment research & consulting firm with a focus on precious metals. For much more detailed commentary about gold and silver, consider the SmartKnowledgeU Crisis Investment Opportunities newsletter. To sign up for our free investment newsletter, please visit SmartKnowledgeU and sign up here.
Tags: Collapse, Contrarian Indicator, Downturn, Explosive Move, Global Banking, Gold And Silver, Gold Miners, Gold Prices, Lows, One Moment, Set Foundation, Silver And Gold, Silver Assets, Silver Cartel, Silver Futures, Silver Mining, Silver Prices, Sole Reliance, Technical Analysts, Technical Charts
Posted in Markets | Comments Off
---
Friday, January 6th, 2012
3 Economic Scenarios for 2012
by Russ Koesterich, Chief Investment Strategist, iShares
January 5, 2012
As 2011 draws [drew] to a close, many investors are asking me what I expect the global economy will look like next year.
While I don't have a crystal ball, I do believe that three economic scenarios could play out in 2012. In my recent Markets Perspective piece, I've assigned probabilities to them based on how likely I believe they are to occur.
The most likely scenario is that "The Great Idle" continues. This is the term I'm using to describe a global economy that continues to muddle along with slow but positive growth, avoiding an economic crisis.
A severe global recession in 2012 is a second possible scenario. In fact, I'm placing higher odds on another global recession than I did last year.
If this were to occur, it would most likely stem from policy failure and a banking crisis in Europe. It could also be the result of policy mistakes in the United States or some unexpected event like an oil shock.
There's a tiny chance of a third scenario, which is really an unlikely fairytale ending to this year's downturn. In this scenario, emerging markets would resume stellar growth and the developed world would revert back its long-term average growth.
In the chart below, you can find the exact probabilities I'm assigning to the three scenarios as well as the investment strategy I favor for each.
In a world where so many different outcomes are possible, investors should consider building a portfolio that represents the two scenarios they believe are most likely. This essentially means having two portfolios, with each one weighted roughly inline with the odds of the scenario.
The portfolio could be adjusted over the course of 2012 as signs of the various scenarios — such as progress on a European fiscal union and European Central Bank bond purchases (see my Market Perspectives for more signs) — play out.
If your investing timeframe is longer than one year, consider lowering exposure to Treasuries and raising exposure to global mega caps.
There's always the chance that events will happen that will change the global economy in unforeseen ways. For instance 2011's unexpected events included devastation in Japan, a spike in crude oil prices, and a near perfect streak of policy missteps in Europe and the United States. These unpredictable developments turned what was predicted to be a difficult year into an excruciating one.
But the portfolio ideas below could at least help you prepare for the wide range of scenarios that can be predicted today
Disclosure: Author is long IOO, EWC, EWA, EWS, EWL, EWH, EWZ, LQD and IEV
In addition to the normal risks associated with investing, international investments may involve risk of capital loss from unfavorable fluctuation in currency values, from differences in generally accepted accounting principles or from economic or political instability in other nations. Emerging markets involve heightened risks related to the same factors as well as increased volatility and lower trading volume. Securities focusing on a single country may be subject to higher volatility. Bonds and bond funds will decrease in value as interest rates rise. An investment in the Fund(s) is not insured or guaranteed by the Federal Deposit Insurance Corporation or any other government agency.
Investors should consult with their financial advisor prior to implementing any investment strategy.
Copyright © iShares
Tags: Banking Crisis, Chief Investment Strategist, Crystal Ball, Downturn, Economic Crisis, Economic Scenarios, Emerging Markets, Exact Probabilities, Fairytale, Global Economy, Global Recession, Investment Strategy, Market Perspectives, Oil Shock, Policy Failure, Portfolios, Stellar Growth, Timeframe, Tiny Chance, Unexpected Event
Posted in Markets | Comments Off
---