Archive for January, 2011
Wednesday, January 26th, 2011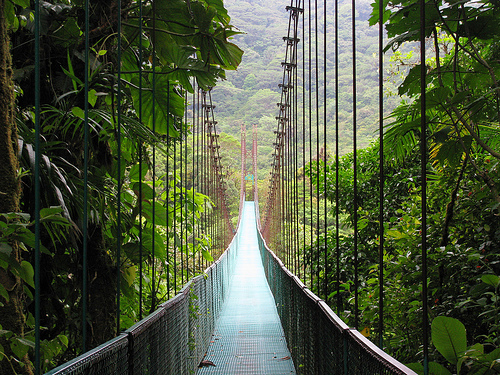 For 11 days [last win­ter], I have been [was] in Costa Rica with my wife, Wendy. We came  here [there] as guests of my friend and client, David Gray, Vice Pres­i­dent, Whole­sale Dis­tri­b­u­tion, for Sun Life of Canada. David asked me to speak at the Sun Life Pre­mier Part­ner Con­fer­ence at the beau­ti­ful J W Mar­riott Resort and Spa in Guanacaste.
Peo­ple often ask me how I chose the name The Covenant Group for our com­pany. When I started The Covenant Group in April, 1995, I had been involved in train­ing and devel­op­ment for 20 years. It occurred to me that the most reward­ing rela­tion­ships dur­ing that period were covenants. A con­tract has its roots in law and is designed to pro­tect the inter­ests of par­ties to an agree­ment. A covenant is a sacred trust. It is an agree­ment to pro­mote the inter­ests of all par­ties. The name, The Covenant Group, cap­tured the essence of what is most mean­ing­ful to me in busi­ness. I have known David Gray for over 25 years. We have worked together when he was with other com­pa­nies and in dif­fer­ent roles and when I was in other busi­nesses. Some­times, we have worked with an explicit con­tract. Always, the rela­tion­ship has been based upon a covenant. The set­ting for Sun Life's Con­fer­ence in beau­ti­ful Costa Rica seemed very appro­pri­ate. The Costa Rican peo­ple can teach us a lot about covenant relationships.
Costa Ricans have a covenant with Nature – This coun­try is one of the most envi­ron­men­tally friendly places in the world. Over 27% of the land is pro­tected. While Costa Rica is a tiny coun­try, it is home to 5% of the world's bio-diversity. Peo­ple from all over the world travel here to enjoy this diver­sity. The peo­ple of Costa Rica are jus­ti­fi­ably proud of their beau­ti­ful coun­try and com­mit­ted to pro­tect­ing the envi­ron­ment. This ded­i­ca­tion to liv­ing in har­mony with nature serves as a les­son for all of us. Given the impor­tance of the envi­ron­ment to every­one, this covenant with nature is a gift to the world.
Costa Rica is com­mit­ted to the well being of its peo­ple – In 1949, the con­sti­tu­tion of Costa Rica dis­man­tled the country's armed forces. The coun­try is known as "the only coun­try that doesn't have an army." Instead, the focus of gov­ern­ment spend­ing has been on edu­ca­tion and health care. Costa Rica has the high­est lit­er­acy rate in the world. They have had uni­ver­sal health care for 40 years. In gen­eral, the peo­ple of Costa Rica are healthy and well edu­cated. The polit­i­cal cli­mate is tur­bu­lent in many parts of Cen­tral and South Amer­ica and there are high lev­els of crime and vio­lence. Costa Rica is an oasis of calm amidst all of this tur­bu­lence. One of the best ways to pro­mote a civil soci­ety is to fos­ter the growth and devel­op­ment of all cit­i­zens. This is a coun­try of oppor­tu­nity where peo­ple feel as if they are cared for and have the poten­tial to improve their lives. We can all learn from their exam­ple about where to focus our money and resources to cre­ate a bet­ter today and tomorrow.
The Costa Rican peo­ple are warm and gra­cious hosts – We have been blown away by the com­mit­ment to ser­vice and the kind­ness of the peo­ple. There are four sub-climates in Costa Rica and, as a result, four dis­tinct regions. We were able to visit three of them. While each area is quite unique, the com­mon ele­ment is the warmth and gen­eros­ity of the peo­ple. Tourism is a very impor­tant indus­try. The peo­ple who live and work here show their appre­ci­a­tion for the con­tri­bu­tion of tourists to the economy.
The Infor­ma­tion or Knowl­edge Age began about 1950 in the US and has shaped our lives for the last 60 years. We are at the dawn­ing of the next great age, the Eco­log­i­cal Age. We must learn to live in har­mony with nature to ensure the sus­tain­abil­ity of our envi­ron­ment. The peo­ple of Costa Rica lead the world in demon­strat­ing that envi­ron­men­tal and eco­nomic sus­tain­abil­ity go hand in hand.
Norm Trainor is the founder of The Covenant Group, a com­pany spe­cial­iz­ing in prac­tice devel­op­ment for advi­sors. For fur­ther infor­ma­tion, visit his Web site at www​.covenant​group​.com.
Fol­low The Covenant Group at:




    Lat­est Advi­so­r­An­a­lyst Prac­tice Growth Sto­ries
Tags: Beautiful Country, Bio Diversity, Canada David, Costa Ricans, Covenant Group, Covenant Relationships, David Gray, Explicit Contract, Harmony With Nature, J W Marriott, Living In Harmony, Marriott Resort, Norm Trainor, Partner Conference, Resort And Spa, Rewarding Relationships, Sacred Trust, Sun Life Of Canada, Tiny Country, Wholesale Distribution, Wife Wendy
Posted in My Practice, Norm Trainor | Comments Off
---
Wednesday, January 26th, 2011
By Liza Mag­Cale, eLi​aise​.com

Here is a sit­u­a­tion where cre­ativ­ity and "think­ing out­side the box" helped a young startup busi­ness get its' feet on the ground. Tom Mul­looly had been a retail bro­ker and man­ager for 16 years with a major bro­ker­age firm in the US. In 2002, Tom decided to take the leap, mov­ing over to the other side and become a fee-only invest­ment advi­sor. Mean­ing Tom would no longer be affil­i­ated with a large firm with deep pock­ets. While this was a much more reward­ing busi­ness struc­ture per­son­ally, Tom knew it meant sig­nif­i­cant changes.

First, Tom lost the entire sup­port staff he relied on for six­teen years at the bro­ker­age firm. This was not sim­ply los­ing an admin­is­tra­tive assis­tant: no more oper­a­tions assis­tant, no recep­tion­ist, and no addi­tional staff. He knew he had to put all of the pieces in place imme­di­ately to reas­sure his clients this new struc­ture would con­tinue to be "busi­ness as usual." He had to work very quickly to get admin­is­tra­tive issues up to speed. Tom started look­ing around at hir­ing staff. But hir­ing staff required a lot of money.

Not only would Tom have to pay some­one a salary, he would need to carry worker's com­pen­sa­tion, pay pay­roll taxes, and pro­vide health ben­e­fits. Addi­tion­ally, inter­view­ing and hir­ing employ­ees loomed as a full-time job in itself. After doing exten­sive research, Tom out­sourced remotely. He quickly dis­cov­ered out­sourc­ing was a double-edged sword. "It's great to find some­one who works from home or works remotely and can get tasks done. But it's also hard to com­mu­ni­cate with some­one hun­dreds of miles away. There are also 'trust' issues. If you do not feel com­fort­able yet, how much work will you off-load to some­one out­sourced? Tom decided to stream­line tasks, just like the bro­ker­age.

First com­po­nent: get­ting the phones cov­ered in a pro­fes­sional way, let­ting clients know they would be hear­ing back from him. Tom wanted this per­son to try gen­tly probe the client for the rea­son behind the call and help callers (in a cur­sory way) before Tom could get back to them.

Tom pic­tured just two options at this point: Hire an in-house sec­re­tary, or engage an answer­ing ser­vice. Tom tested a few answer­ing ser­vices, since hir­ing staff was too costly.

"I had bounced around with local phone answer­ing ser­vices. You really get what you pay for. A local answer­ing ser­vice (based in New Jer­sey) was my first stop. And you peri­od­i­cally want to test — to see what's going on, to hear what your clients hear when call­ing in.

With­out exag­ger­a­tion, my phone would ring 15, 20, 25 times before it would be answered. And then the caller would hear, 'Please hold,' and then they'd be left on hold for sev­eral min­utes." I also heard (more than once) "Thank you for call­ing Dr. Mullooly's office."

But there was actu­ally a third option for Tom. A vir­tual assis­tant group referred Tom to eLi­aise in 2005. Our first con­ver­sa­tion topic was how to pro­nounce his name cor­rectly. We still have the pho­netic spelling of his name in our files. It's M-a then l-U and then l-E and that's exactly how it has been shared with peo­ple when they start answer­ing his phone. This is impor­tant because it mat­ters to Tom. He would never have any­one answer the phones if they could not per­form a sim­ple task like cor­rectly pro­nounc­ing the name of the per­son they're call­ing. On the sur­face, this may seem triv­ial to some, how­ever it's details, like these and many oth­ers, that count the most, since, among other things, Tom would like to pre­vent clients from think­ing, at all, that his 'staff' is a vir­tual ser­vice of some kind.

Liza Mag­Cale is the founder of eLi­aise, an out­sourced solu­tion provider for advi­sors, and if you'd like more infor­ma­tion, please call Tom's office at 732−223−9000 and ask for Liza. You may also con­tact Liza at 416−630−1631.

    Lat­est Advi­so­r­An­a­lyst Prac­tice Growth Sto­ries
Tags: Administrative Issues, Brokerage Firm, Business Structure, Deep Pockets, Double Edged Sword, Extensive Research, Feet On The Ground, Full Time Job, Hundreds Of Miles, Investment Advisor, Operations Assistant, Payroll Taxes, Pieces In Place, Retail Broker, Rewarding Business, Sixteen Years, Startup Business, Thinking Outside The Box, Trust Issues, Virtual Office
Posted in My Practice | Comments Off
---
Wednesday, January 19th, 2011
This arti­cle is a guest con­tri­bu­tion by Paul Ruther­ford, a Con­sul­tant and Exec­u­tive Coach based in Lon­don, UK.
Like lost car keys, learn­ing can turn up in the most unex­pected places.
After a recent work­shop on Client lead­er­ship, I've been read­ing The Trusted Advi­sor by Mais­ter, Green and Gal­ford. It's a com­pre­hen­sive, well-structured hand­book aimed at those  in pro­fes­sional ser­vices who need to build and rein­force their busi­ness relationships.
Full of anec­dotes, check­lists and 'how to' tips, it's  thor­ough and full of exam­ples. Almost too thor­ough; no mat­ter how many notes I made, and key para­graphs I under­lined, it wasn't stick­ing. It's one of the short­com­ings inher­ent in the 'hand­book' form – I needed some­thing to make it come alive.
Then yes­ter­day I went to see The King's Speech.
MOVIE MASTERCLASS
Geof­frey Rush plays Lionel Logue, the Aus­tralian speech ther­a­pist who helped Prince Bertie, the Duke of York (Colin Firth) – and sec­ond son of King George V – to over­come a debil­i­tat­ing stam­mer. To make mat­ters worse, his elder brother (David aka Edward VIII) abdi­cated the throne to marry a divorcee, and Bertie became King on the eve of WW2 – at the time when the coun­try needed a clear voice of leadership.
Like all great pieces of enter­tain­ment, it's a movie that works on mul­ti­ple lev­els: It's the story of a man try­ing to con­quer his dae­mons. It's the por­trait of a leader strug­gling to step up to his role. It's a study of class and social hier­ar­chy. It's an essay on the impact of radio broad­cast­ing on pol­i­tics and society.
And it's a mas­ter­class in becom­ing a trusted adviser. Here are eight scenes from David Seidler's orig­i­nal screen­play that beau­ti­fully illus­trate many of the prin­ci­ples in Maister's book:
1 "TRUSTED ADVISERS ARE CONSISTENT"
It is Bertie's wife, Eliz­a­beth, who first approaches Lionel about treat­ing her hus­band. She does so under the pseu­do­nym OF Mrs John­son. He is direct and to-the-point with her:
LIONEL: Where's Mr Johnson?

ELIZABETH: He doesn't know I'm here.

LIONEL: That's not a promis­ing start
He tells here to have hubby 'pop by' to give his per­sonal his­tory. She says "you must come to us."
LIONEL: Sorry, Mrs J, my game, my turf, my rules

ELIZABETH: And what if my hus­band were the Duke of York?
The penny drops for Lionel, but not his faith in his method and his suc­cess rate:
LIONEL: I can cure your hus­band. But for my method to work there must be trust and total equal­ity in the safety of my con­sul­ta­tion room. No exceptions.
It's tes­ta­ment to Helena Bon­ham Carter's per­for­mance that you can see the relief in her face. Here is an adviser that is dif­fer­ent, con­fi­dent and will not make excep­tions. Whether address­ing com­moner or roy­alty, he takes the same approach.
2 "BE NOT AFRAID. CREATING INTIMACY TAKES COURAGE."
Obvi­ously, this could be a flag­ship Client for Lionel; in that era, the grav­i­ta­tional pull of def­er­ence would have been immense. But his method – his advice – is based upon a rela­tion­ship of equals, which he makes very clear to Bertie when they first meet.
LIONEL: I was told not to sit too close. I was also told, speak­ing to a Royal, one has to wait for the Royal to choose the subject."
Clev­erly, Lionel is already chip­ping away at the pro­to­col; even Bertie acknowl­edges, with dif­fi­culty, that with him it could be a 'rather long wait'. It's a light moment before the inevitable con­flict arises as the Adviser tries to map out his ter­ri­tory, focus­ing on facts:
LIONEL: When did the defect start?

BERTIE: It's always been that way.

LIONEL: I doubt that.

BERTIE: Don't tell me! It's my defect.

LIONEL: It's my field. I assure you, no infant starts to speak with a stammer.
After set­ting out his stall – he is the expert – he goes on to pro­voke Bertie, because it breaks down bar­ri­ers and is part of the solu­tion; Bertie doesn't stam­mer when he's angry. It's hardly likely to be part of a B2B Client engage­ment strat­egy, but it's a mem­o­rable rein­force­ment of the need to be brave in the face of defen­sive aggression.
3 "ILLUSTRATE, DON'T TELL."
After pro­vok­ing his poten­tial Client, Lionel sets him an exer­cise to record his voice (if you haven't seen the film, I'll spare you the details). The ses­sion ends fros­tily, with Bertie say­ing that the treat­ment is not for him.
How­ever, in a scene shortly after, Bertie lis­tens to the record­ing, and realises that Lionel's meth­ods – or at least his approach – can yield results.
No one has told him this, it's not on a tes­ti­mo­nial. He has first hand, per­sonal evi­dence of success.
4 "EARN THE RIGHT TO OFFER ADVICE"
When Bertie returns to trial Lionel's meth­ods, the Royal cou­ple set out their terms:
BERTIE: Strictly busi­ness. No per­sonal nonsense.

ELIZABETH: I thought I'd made that very clear in our interview?
Lionel points out that the couple's request will result in deal­ing with the issue at sur­face level, and is told that it will suf­fice. So rather than be pre­cious, he agrees to focus on breath­ing tech­niques, phys­i­cal exer­cise and tongue twisters. We know that it won't address the core prob­lem, but this is Lionel's first steps in form­ing the rela­tion­ship. He is earn­ing the right to go further.
5 "FOCUS ON THE CLIENT AS AN INDIVIDUAL, NOT AS SOMEONE WHO IS FILLING A ROLE."
Halfway through the film, Bertie's father (King George V) dies. When Client and Adviser meet soon after, the con­ver­sa­tion extends beyond the pre­scribed bound­aries. As is his duty, Bertie has been pre­sent­ing a for­mal face to the world, so he treats the meet­ing with Lionel as a form of release. Lionel learns much about his back­ground, his upbring­ing, his rela­tion­ship with his par­ents and his sib­lings – much of it the root causes of his impediment.
BERTIE: You know, Lionel, you're the first ordi­nary Englishman…

LIONEL: Aus­tralian.

BERTIE: I've ever really spo­ken to.
Of course, the sub­text is that Lionel is the first per­son that Bertie has spo­ken to about these issues. Lionel has now reached the sta­tus of Trusted Adviser.
6 "BE SURE YOUR ADVICE IS BEING SOUGHT."
The next time Bertie and Lionel meet, the prince is very angry with his elder brother. David is intent of mar­ry­ing Mrs Simp­son, a divorcee, so putting heart before duty. If it hap­pens, Bertie will become King.
BERTIE: I am not an alter­na­tive to my brother.

LIONEL: If you had to, you could out­shine David…

Lionel reaches out and gives Bertie a pat of com­fort on the shoul­der. Bertie pulls back in offended shock.

BERTIE: Don't take lib­er­ties! That's bor­der­ing on treason.

LIONEL: I'm just say­ing you could be King. You could do it!

BERTIE: That is treason.

They face each other, as though in combat.

LIONEL: I'm try­ing to get you to realise you need not be gov­erned by fear.

BERTIE: I've had enough of this.

LIONEL: What are you afraid of?

BERTIE: Your poi­so­nous words.
Bertie strides away, leav­ing Lionel to realise that he is no longer adviser to the man who is likely to be King.
It's a bril­liant scene, both dra­mat­i­cally and as illus­tra­tion of a key point in Client inti­macy. No mat­ter how close the rela­tion­ship becomes, there will always be areas that are off lim­its. Here, advice should only be given when invited.
7 "WHEN YOU NEED HELP, ASK FOR IT."
Events turn in the drama, lead­ing to a rec­on­cil­i­a­tion between Bertie and Lionel. This hap­pens at Lionel's home, where he is vis­ited by the royal cou­ple while his wife is out play­ing bridge. Which is just as well, as Lionel has not told her of his 'star' Client.
Unfor­tu­nately, she returns home early, and finds Eliz­a­beth in the din­ning room. Bertie and Lionel are in the par­lour, in a scene that reveals the latter's vulnerability:
BERTIE: Logue, we can't stay here all day.

LIONEL: Yes we can.

BERTIE: Logue…

LIONEL: Look, I need to wait for the oppor­tune moment.

BERTIE: (real­is­ing) You're being a coward!

LIONEL: You're damn right.

Deci­sive, Bertie stands and throws open the door.

BERTIE: Get out there, man!
And so the adviser is advised.
8 "JUST BECAUSE THE CLIENT ASKS A QUESTION, DOESN'T MEAN IT'S THE RIGHT QUESTION TO ANSWER."
Bertie's coro­na­tion is the first major test of Lionel's meth­ods. He attends the prepa­ra­tions at West­min­ster Abbey, and gets a very cold recep­tion from the Arch­bishop of Can­ter­bury, who takes an excep­tion to this antipodean out­sider. In the fol­low­ing scene, it's obvi­ous that 'the estab­lish­ment' has done some dig­ging into Lionel's past, which they have fed to Bertie.
BERTIE: True, you never called your­self 'Doc­tor'. I did that for you. No diploma, no qual­i­fi­ca­tions. Just a great deal of nerve.
How does Lionel respond? By point­ing out that when he was devel­op­ing his meth­ods (to help shell-shocked sol­diers return­ing from the Great War) there was no train­ing. He admits that he has no piece of paper, but asks Bertie to focus on his track record of results, and what they have achieved together.
* * *
I'll stop at this point rather than  spoil the end for those who haven't yet seen The King's Speech. I hope this post encour­ages you to do so, both as an emo­tion­ally charged his­tor­i­cal biopic and as an object les­son in build­ing Client relationships.
Mais­ter et al say of the trusted advi­sor role: "…  vir­tu­ally all issues, per­sonal and pro­fes­sional are open to dis­cus­sion and explo­ration. The trusted advi­sor is the per­son the client turns to when an issue first arises, often in times of great urgency: a cri­sis, a change, a tri­umph, or a defeat."
For any of us hop­ing to build such a rela­tion­ship, there's plenty to learn from Lionel Logue.
About Paul Rutherford
Paul has spent 25 years in com­mer­cial and gen­eral man­age­ment across a wide range  of orga­ni­za­tions, pur­su­ing two pas­sions;  work­ing with col­leagues and Clients  to solve busi­ness prob­lems,  and help­ing oth­ers to develop them­selves, both pro­fes­sion­ally and personally.
He served his appren­tice­ship in com­mu­ni­ca­tion agen­cies, cre­at­ing through-the-line cam­paigns for Tech­nol­ogy and Busi­ness Ser­vice blue-chip corporations.
He moved Client-side in 1992, becom­ing EMEA Com­mu­ni­ca­tions Direc­tor then Gen­eral Man­ager, UK Cor­po­rate Sales for Xerox, fol­lowed by EMEA VP Sys­tems Mar­ket­ing at IBM.
Paul was sub­se­quently Chief Mar­ket­ing Offi­cer for VC-backed Clear­swift, the global leader in email secu­rity, then GM and Coach to sev­eral tech­nol­ogy start-ups and turn-arounds.
Through­out his career,  Paul has built and led teams – from two peo­ple in one office to 150 staff across 16 countries.
After five years as a main board direc­tor of EMEA Exec­u­tive Search firm Beau­mont Karl­son, Paul is now Head of Tal­ent for the TMT sec­tor at Alexan­der Mann Solu­tions, sup­port­ing some of the world's great tech, media and telco brands.
Mar­ried to the most patient woman on the planet, Paul is father to three chil­dren who reg­u­larly remind him that there's more to life than busi­ness and blogging.
Paul Ruther­ford is a Con­sul­tant and Exec­u­tive Coach based in Lon­don, UK. Paul is always open to new con­ver­sa­tions; you can reach him at mail@paulrutherford.com
Copy­right © Paul Ruther­ford

    Lat­est Advi­so­r­An­a­lyst Prac­tice Growth Sto­ries
Tags: Australian Speech, Business Relationships, Car Keys, Colin Firth, Divorcee, Duke Of York, Edward Viii, Elder Brother David, Executive Coach, Geoffrey Rush, Johnson Elizabeth, Logue, Mrs Johnson, Paul Rutherford, Prince Bertie, Radio Broadcasting, Seidler, Social Hierarchy, Speech Therapist, Unexpected Places, Wife Elizabeth
Posted in Effective Communication | Comments Off
---
Tuesday, January 18th, 2011
I recently chat­ted with an advi­sor who com­plained of dif­fi­culty get­ting clients to buy into his recommendations.
We all know the expres­sion "A pic­ture is worth a thou­sand words."
This speaks to the fact that we can talk to exist­ing and prospec­tive clients all we want about our rec­om­men­da­tions, but a cou­ple of well cho­sen graphs and charts can dwarf the impact of any num­ber of words.
That's why when­ever pos­si­ble, rec­om­men­da­tions should be sup­ported by a cou­ple of well cho­sen charts and graphs.
This is espe­cially true when using struc­tured tele­phone reviews to sup­ple­ment face to face meet­ings. Struc­tured phone meet­ings may lack some of the per­sonal con­nec­tion of a face to face meet­ing so don't replace meet­ings entirely, but they tend to be more focused and also avoid hav­ing to ask clients to fight traf­fic and part to come to your office.
To be effec­tive though, you have to estab­lish a visual con­nec­tion when dis­cussing state­ments, review­ing port­fo­lios or mak­ing rec­om­men­da­tions. You can email this before­hand for clients to refer to.
As a bet­ter alter­na­tive, more and more advi­sors are payng $15 monthly to sub­scribe to web meet­ing sites like gotomeet​ing​.com, Microsoft line or Webex — these allow you to email clients a link, when clients click on it, you con­trol their com­puter and you can walk them through a pow­er­point pre­sen­ta­tion or other visuals.
As another exam­ple of the power of graph­ics to present date in a com­pelling fash­ion, a site called www​.gap​min​der​.org does a remark­able job of depict­ing eco­nomic progress going back to 1800 – this may be worth shar­ing with clients.
It shows how life expectancy and income per per­son have evolved each year from 1800 to the present and makes for com­pelling view­ing – espe­cially when you see how China and India stag­nated ini­tially but have been play­ing catch up of late.
Click below to see that chart:

    Lat­est Advi­so­r­An­a­lyst Prac­tice Growth Sto­ries
Tags: Advertisement, Charts And Graphs, Charts Graphs, Economic Progress, Email Clients, Expression, Face To Face, Fashion, Gotomeeting Com, Graphs And Charts, Graphs Charts, Income Per Person, India, Life Expectancy, Meeting Sites, Personal Connection, Phone Meetings, Portfolios, Powerpoint Presentation, Prospective Clients, Remarkable Job, Visuals, Web Meeting
Posted in Dan Richards | Comments Off
---
Tuesday, January 18th, 2011
No mat­ter how hard we try to avoid them, it's inevitable that on occa­sion clients will expe­ri­ence a ser­vice prob­lem — a change of address doesn't go through, some­thing that was sup­posed to be sent slips through the cracks or a request wasn't fol­lowed up on.
Even small mis­takes can be costly — they can cor­rode client con­fi­dence, under­mine good­will and some­times even cost you a client. A while back, I spoke to an investor who pulled his account because of a suc­ces­sion of irri­tat­ing mis­takes over an eigh­teen month period.
As a result, every advi­sor needs a two part strat­egy when it comes to ser­vice problems,
First, you need to put sys­tems in place to keep mis­takes to a minimum.
And sec­ond, you need a proac­tive process to recover from any prob­lems that do take place. In fact, research shows that as long as mis­takes are the excep­tion, speedy and effec­tive recov­ery from a prob­lem can actu­ally leave rela­tion­ships stronger than if the prob­lem hadn't hap­pened at all.
Here's a six step plan for effec­tive prob­lem recov­ery that can help main­tain strong rela­tion­ships even in the face of ser­vice problems.
Step One: Let clients know you want to hear about problems
Many clients are incred­i­bly frus­trated by the dif­fi­culty of get­ting small prob­lems resolved with com­panes they deal with. As a result, many have given up com­plain­ing, men­tally shrug­ging their shoul­ders and mov­ing on.
You don't want your clients deal­ing with you through grit­ted teeth. The first thing you need to do is to clearly com­mu­ni­cate that you truly want to hear if clients ever run into a prob­lem, no mat­ter how triv­ial.


Adver­tise­ment

You can't be sub­tle on this — you need to let clients know that if they ever encounter an issue, you want to know. And make it easy for clients to let you know when they run into a prob­lem, by ask­ing them to drop you or your assis­tant an email or to give you a call.
Step Two: Under­stand the issue
Clients call­ing with an issue can some­times be worked up and overly emo­tional. As a result, your first pri­or­ity is to thank them for bring­ing this to your atten­tion — and then to clearly under­stand the exact nature of the prob­lem. Ask clients call­ing in to walk you through exactly what tran­spired, tak­ing detailed notes.
Then ask if you can play back what you heard just to be sure you got it right.
Step Three: Apologize
Once you've heard clients out, the next step is to apol­o­gize in a way that clients under­stand you truly are sorry.
These days, you see a lot of "going through the motions" apolo­gies, apolo­gies that don't seem heart felt or sin­cere. After a long wait at a TD bank counter one recent morn­ing while the woman I was deal­ing with went to check some­thing, she came back and turned to her screen, mum­bling "Sorry to keep you wait­ing" with­out ever look­ing at me.
Not only did I not feel apol­o­gized to, I felt dis­missed. If this woman had looked at me when she got back, engaged me for a sec­ond and a half and said "I'm ter­ri­bly sorry to keep you wait­ing, we ran into a bit of a delay," my reac­tion would have been entirely different.
After hear­ing clients out, be sure to take a few sec­onds to ensure they under­stand you sin­cerely regret hav­ing incon­ve­nienced them.
Step Four: Lay out next steps
Next you need to spell out exactly what you're going to do to fix the prob­lem. Once you've done that, ask "
Even if you need to do some research or to get more infor­ma­tion before iden­ti­fy­ing what will hap­pen, you need to be clear on when you'll be respond­ing with more specifics.
Step Five: Make sure the prob­lem is fixed
Whether deal­ing with tele­coms, cable com­pa­nies or air­lines, many of us have had the expe­ri­ence as cus­tomers where small mis­take fol­lows small mis­take — it's incred­i­bly frus­trat­ing when we go through one glitch after another.
When a client encoun­ters a prob­lem, you need ensure that it's cor­rected quickly and accu­rately — the last thing you want to do is to com­pound a mis­take by fail­ing to deliver the solu­tion you promised.  One advi­sor starts his morn­ing team meet­ing by review­ing a list of out­stand­ing ques­tions and prob­lems, to be sure that noth­ing slips through the cracks.
Step Six: Check back with the client
The final step is to cir­cle back with the client to be sure that you've deliv­ered the res­o­lu­tion you promised.
The best way to do this is to pick up the phone after­wards and to say "I'm just call­ing to fol­low up on the prob­lem you expe­ri­enced. I wanted to say again how sorry I am that you ran into this and also to ensure that we're resolved this issue."
In the per­fect world, mis­takes would never hap­pen and we wouldn't need a prob­lem res­o­lu­tion strat­egy. In the real world, occa­sion­ally things break down and clients inevitably expe­ri­ence small glitches from time to time — when that hap­pens, you need to be proac­tive to ensure that you turn prob­lems into an oppor­tu­nity to strengthen relationships.

    Lat­est Advi­so­r­An­a­lyst Prac­tice Growth Sto­ries
Tags: Advertisement, Change Of Address, Client Confidence, Cracks, Email, Face, Goodwill, Gritted Teeth, Investor, Relationships, Shoulders, Six Step, Slips, Succession
Posted in Dan Richards | Comments Off
---
Tuesday, January 18th, 2011
In early Decem­ber, I had a first hand reminder that sat­is­fac­tion isn't dri­ven by the absolute level of per­for­mance, com­mu­ni­ca­tion or ser­vice – but rather the level com­pared to going in expectations.
With an invi­ta­tion to speak at a con­fer­ence at Whistler on Decem­ber 1, in Octo­ber I decided to extend my stay for four days to ski. Given noto­ri­ously unre­li­able snow con­di­tions that early in the sea­son, there was a good like­li­hood that the ski­ing would be mar­ginal – but decided to take my chances.
A first hand expe­ri­ence on the ski slopes
In late Novem­ber, Whistler began send­ing out emails that they'd received 18 feet of snow – the most ever in any one month. Obvi­ously, any­one plan­ning to ski in early Decem­ber had got­ten incred­i­bly lucky. This was espe­cially the case given that ski resorts every­where else in North Amer­ica had lit­tle snow.
When I headed out the first day with some other con­fer­ence atten­dees, we were all anx­ious to take advan­tage of our good for­tune – only to be get an unpleas­ant surprise.
Yes, the moun­tain had received 18 feet in Novem­ber –but as it hap­pens hadn't received new snow in the past ten days. Fur­ther, it had rained a cou­ple of times dur­ing that period and as a result, the hill was hard packed and quite icy.
To make up for this, though, at least the first two days were mild and sunny.  (Sun is some­thing else that's unre­li­able at Whistler in Decem­ber, as it will often be over­cast and foggy with flat light.)
On Day Three, a sys­tem came in that made it very cold and incred­i­bly windy – some of the lifts had to be closed due to wind. (I rec­og­nize that for non skiers read­ing this, none of this will make them take up the sport.)
In fact, it was so unpleas­ant that many skiers came off the moun­tain early.
My last day, I debated not going out at all – but given that I had already paid for my lift ticket decided to give it a try.  While still cold and windy, it was much less so than the pre­vi­ous day and I skied the full day.
The role of going in expectations
In talk­ing after­ward to oth­ers who had skied the past four days, I was struck by the num­ber who said they were pleas­antly sur­prised by con­di­tions on day four – even though all four days were sim­i­larly icy and it was actu­ally quite a bit colder the last day than the first two.
What was at play here, of course, were expec­ta­tions in action.
Our expec­ta­tions on Day One were ele­vated by all the hype about 18 feet of snow – none of us were pre­pared for the real­ity that we encountered.
By con­trast, Day Four's expec­ta­tions were tem­pered by the cold the pre­vi­ous day. We were all pre­pared for con­di­tions sim­i­lar to Day Three – so the fact that the wind had died down and the tem­per­a­ture was a bit warmer was a bonus.
While we were dis­ap­pointed with the snow con­di­tions, no one blamed the ski oper­a­tor for the icy con­di­tions or the cold – we rec­og­nized this is the inher­ent risk of the sport.
At the same time, there was lots of grum­bling about the fact that lifts were oper­at­ing very slowly on the two windy days – not only did it take more time to reach the top of the hill, but the wind made being on the lifts quite unpleas­ant. In talk­ing to some­one in man­age­ment at Whistler after­wards, he explained that dur­ing windy con­di­tions, safety requires the lift speed to be taken down.
Trans­lat­ing this to advi­sors' reality
With­out push­ing the com­par­i­son too far, there are some par­al­lels to client sat­is­fac­tion with their advisor.
Let's start with the good news – most peo­ple are rea­son­ably ratio­nal when it comes to point­ing fin­gers at things beyond anyone's control.
No one blamed the moun­tain for cold and icy con­di­tions. Sim­i­larly, while stressed and dis­ap­pointed, a year ago most clients weren't blam­ing their advi­sors for the fact that their invest­ments had taken a hit – when talk­ing to investors, most said "Every­one I know is down – I rec­og­nize that no one saw this coming."
That said, just as many skiers felt a bit mis­led by Whistler's avid pro­mo­tion of "the biggest snow month ever",  s ome investors did feel that the invest­ment indus­try hadn't painted a bal­anced pic­ture of the down­side risks going into 2008's mar­ket meltdown.
And just as skiers were quick to point fin­gers at things that they did see within the mountain's influ­ence such as lift speeds or staffing lev­els, so investors can be crit­i­cal in cases where they think their advi­sor or firm has fallen down on things within their control.
The impli­ca­tions for advisors
There are a few lessons from advi­sors from this experience.
First is the crit­i­cal impor­tance of set­ting expec­ta­tions – both on big issues as well as small ones.
First, when a client has a prob­lem or a ques­tion and you say "I'll get back to you", always spec­ify when that will hap­pen. You may hang up the phone plan­ning to get back in one or two days, think­ing that this is rea­son­ably good turn­around time — mean­while, your client may be expect­ing a call within one or two hours.
Sec­ond, ensure your clients under­stand when you run into prob­lems that are beyond your control.
A com­mon source of frus­tra­tion for many client is feel­ing over­whelmed by the vol­ume of mail con­cern­ing the mutual funds they own. Take the time to explain that this is some­thing beyond your con­trol and is a func­tion of reg­u­la­tory require­ments – the same applies to client state­ments that may be hard to understand.
One advi­sor who changed offices sent out a note to key clients in advance, explain­ing that dur­ing the 30 day tran­si­tion the response level from her staff might be less than they were used to.
"No one was upset" this advi­sor said. "In fact, most clients thanked me for let­ting them know – and wished me luck on the move."
Finally, rec­og­nize the ele­ment of sur­prise means that you're likely to get the best response the first time you do any­thing new – whether it's a client con­fer­ence call, a din­ner or struc­tured tele­phone meet­ing to review a client's statement.
One solu­tion is to mix things up – one advi­sor does a dif­fer­ent client thank you event every year, sim­ply because he doesn't want clients to see his events as routine.
That doesn't mean that it doesn't con­tinue to make sense to do these – but rec­og­nize how quickly clients assim­i­late these into what they expect.
Remem­ber, if you want to get max­i­mum impact from what you do and clients to be pleas­antly sur­prised, you have to con­stantly look for ways to raise the client expe­ri­ence com­pared to going in expectations.

    Lat­est Advi­so­r­An­a­lyst Prac­tice Growth Sto­ries
Tags: Absolute Level, Conference Attendees, Good Fortune, Hand Experience, Invitation, Late November, Lift Ticket, Likelihood, Managing Expectations, New Snow, Performance Communication, Reminder, Satisfaction, Ski Resorts, Ski Slopes, Skiers, Skiing, Snow Conditions, Unpleasant Surprise, Whistler
Posted in Dan Richards | 1 Comment »
---
Tuesday, January 18th, 2011
The fol­low­ing is based on one of Norm Trainor's clients, Eric Scott.
The first thing that stands out about Eric Scott is his com­mit­ment to serv­ing his clients. Eric shares two qual­i­ties of top advi­sors. The first is high self-efficacy i.e. the desire to grow and become as much as you can be. The sec­ond qual­ity is gen­eros­ity of spirit. Eric is a giver. He is pas­sion­ate about mak­ing a dif­fer­ence in the lives of oth­ers. This tran­scends his busi­ness and touches every area of his life. He views his cho­sen career of a finan­cial advi­sor as a call to serve. Yet, his com­mit­ment to ser­vice often left him feel­ing exhausted at the end of each day. There were just not enough hours in the day to accom­plish every­thing that needed to be done.
The break­through for Eric came from the real­iza­tion that he could not achieve what he wanted by him­self. He needed a team of peo­ple who shared his pas­sion to serve. Today, the mantra is: "You have to do it your­self and you can't do it alone." Eric is part of a Study Group of top advi­sors whom I coach. Eric has been in the busi­ness for a num­ber of years. He began as a busi­ness of one and grew through serv­ing his clients well. As his prac­tice grew, he rec­og­nized the need to hire sup­port staff.
Adver­tise­ment




Entre­pre­neurs often hire based upon rela­tion­ships, not nec­es­sar­ily the best fit for a role. Since Eric has no for­mal train­ing as a man­ager, his expe­ri­ence in attract­ing and retain­ing the right staff was hit and miss. We are attracted to work we enjoy and per­form com­pe­tently. Eric strug­gled as a man­ager. He did not enjoy the role and felt inad­e­quate as a man­ager of people.
Eric loves the role of finan­cial advi­sor to his clients. He also wants to build a multi-million dol­lar advi­sory firm and knows he can't do it alone. To grow, Eric needed a chief admin­is­tra­tive offi­cer (CAO), some­one who could man­age staff and deal with the oper­a­tional aspects of his busi­ness. This would free Eric to focus on strat­egy and pro­vid­ing finan­cial advice. To hire the best peo­ple, you have to take into account four (4) deter­mi­nants of effec­tive­ness in a role. They are as follows:
1.    Cog­ni­tive Capa­bil­ity — Cog­ni­tive relates to prob­lem solv­ing and exer­cis­ing judg­ment. Capa­bil­ity equates to poten­tial. It is impor­tant to hire peo­ple who have the right men­tal horse­power to per­form effectively.
2.    Knowl­edge and Exper­tise — Do they have the required skills and knowl­edge to func­tion effec­tively in the role?
3.    Per­sonal and Rela­tion­ship Skills — Per­sonal skills include time man­age­ment, exer­cis­ing the dis­ci­pline to com­plete tasks, effec­tively uti­liz­ing resources, etc. Rela­tion­ship skills reflect the abil­ity to work with and through peo­ple to accom­plish tasks.
4.    Moti­va­tion — Do peo­ple value the work they are asked to per­form? We tend to choose work we value. It is the will­ing­ness to per­form at a high level in a role.
Eric used these deter­mi­nants in assess­ing can­di­dates for the CAO role. He also exer­cised the dis­ci­pline of tri­an­gu­la­tion in select­ing the right can­di­date. He inter­viewed a num­ber of peo­ple, did ref­er­ence checks and used assess­ment tests. As time con­sum­ing as this was, the pay­off came in hir­ing an out­stand­ing per­son. Michelle has the req­ui­site cog­ni­tive capa­bil­ity, knowl­edge and exper­tise, per­sonal and rela­tion­ship skills and moti­va­tion to man­age a team of capa­ble staff. Eric is quite com­fort­able man­ag­ing Michelle because she fully embraces his vision for the busi­ness and shares a pas­sion for client ser­vice. Through the exam­ple set by Eric and Michelle, the team is ded­i­cated to pro­vid­ing excep­tional ser­vice that expands client relationships.
Eric is doing what he does best. He is respon­si­ble for strat­egy, meet­ing with clients and prospec­tive clients and man­ag­ing Michelle. She man­ages the rest of the team. Each team mem­ber has clearly defined account­abil­i­ties. As a result, Eric is mak­ing more money and hav­ing more fun, while build­ing a sig­nif­i­cant business.
Norm Trainor is the founder of The Covenant Group, a com­pany spe­cial­iz­ing in prac­tice devel­op­ment for advi­sors. For fur­ther infor­ma­tion, visit his Web site at www​.covenant​group​.com.
Fol­low The Covenant Group at:




    Lat­est Advi­so­r­An­a­lyst Prac­tice Growth Sto­ries
Tags: Administrative Officer, Advertisement, Advisory Firm, Best Fit, Breakthrough, Coach Eric, Desire, Eric Scott, Financial Advice, Generosity Of Spirit, Mantra, Norm Trainor, Operational Aspects, Passion, People, Realization, Relationships, Self Efficacy, Study Group, Support Staff
Posted in My Practice, Norm Trainor | Comments Off
---
Wednesday, January 12th, 2011
There are lots of res­o­lu­tions advi­sors could make in 2011. But here's the one that for many advi­sors could have the high­est pay­off – and that's to work smarter this year, by build­ing reg­u­lar think­ing time into your business.<br>
We've all become incred­i­bly busy with more demand­ing clients and an always-on world of email and black­berry.  As a result, most advi­sors are work­ing hard but they aren't nec­es­sar­ily work­ing smart. And the only way to ensure you're work­ing smart is to con­sis­tently step back and take a bit of time to think hard about your business.
Quar­terly think­ing time
This process starts by hav­ing writ­ten goals in place for the next three to five years and a writ­ten plan of action for the year ahead on how you're going to achieve those goals. That writ­ten 12 month plan is a good start­ing point but that's all it is unless you sched­ule reg­u­lar time into your rou­tine to review, update and mod­ify that plan.
This should hap­pen at four lev­els – quar­terly, monthly, weekly and daily.
For your quar­terly think­ing time, you should sit down for half a day with your team or two or three other advi­sors that you respect and trust.
And in that half a day, you ask your­self a num­ber of key ques­tions:
What were my goals for the last quar­ter and how did I do against those goals?
What worked in the last quar­ter, what didn't and what can I learn from the last quar­ter?  In other words what I am I going to do dif­fer­ently in the next three months based on what hap­pened in the last three months?
And finally, what are my goals for the next quarter?
Monthly, weekly … and daily
For your monthly think­ing time, you go through exactly the same review process … except you do it more briefly, tak­ing  an hour or so rather than half a day. But you ask your­self the same fun­da­men­tal ques­tions, how am I doing against my goals, what's worked and what hasn't , what am I going to do dif­fer­ently next month as  a result.
For your weekly think­ing time, you're look­ing at ten  min­utes to review with your team what hap­pened last week, again what worked, what didn't , what can we learn from this.
A few years back I talked to a very suc­cess­ful advi­sor who for thirty years had taken ten min­utes every Sun­day night at 9 o'clock to review all his meet­ings in the week that had just passed and asked him­self what he needed to do dif­fer­ently based on that – and attrib­uted much of his suc­cess to that process.
Finally, for your daily think­ing time I sug­gest advi­sors either end each day or start each day by tak­ing two or three min­utes and ask­ing one key ques­tion – what can I learn from the day that just passed.
And then write down the answer.
There's indis­putable evi­dence on the power of writ­ten goals — just by writ­ing things down, things seem to stick. And if you write down your key take­aways in one con­sis­tent place, say the same file on your com­puter, chances are that over time you'll see a pat­tern emerge.
Mak­ing think­ing time happen
Some advi­sors may look at this and ask if you can afford to spend this much time reflect­ing on your busi­ness. I'm going to sug­gest that's the wrong ques­tion – the ques­tion isn't whether  you can afford to spend this much time think­ing about your busi­ness.  If your goal is to work smart rather than hard in 2011, the ques­tion is whether you can afford NOT to invest this kind of time on a reg­u­lar basis think­ing hard about your business.
We've talked about spend­ing half a day a quar­ter, an hour a month, ten min­utes a week and two min­utes a day. Add that all up and it works out to about five days of think­ing time over the course of a year – add another day for annual plan­ning and that's six days.
That's six out of let's say 200 work days, when you fac­tor in hol­i­days and vaca­tions.  What that means is that advi­sors would be spend­ing 3% of their time think­ing and 97% of their time doing. And spend­ing that 3% of your time reflect­ing on your busi­ness will pay huge div­i­dends in mak­ing the other 97% of your time more productive.
If you like this idea, here are two final steps.
First, go to your cal­en­dar and iden­tify when you're going to do those three minute daily reviews and ten minute weekly reviews.
And while you're at it block off the first one hour monthly review for Feb­ru­ary 1.
And sec­ond, iden­tify who you're going to invite to par­tic­i­pate in these monthly and quar­terly review s. You could do it with other mem­bers of your team, or if you're work­ing on your own invite between one and three other advi­sors in your office to par­tic­i­pate. Send them a copy of this arti­cle and invite them to join you at that first monthly review.
Resolv­ing to build more think­ing time into your busi­ness may not be as obvi­ous as resolv­ing to lose weight or get in shape – but as impor­tant as those may be for your phys­i­cal health, increas­ing the qual­ity of think­ing time is just as crit­i­cal for  the health of your busi­ness … and may well be a res­o­lu­tion that pays big div­i­dends long after vow­ing to lose weight or make it to the gym have been left in the dust.

    Lat­est Advi­so­r­An­a­lyst Prac­tice Growth Sto­ries
Tags: Blackberry, Br, Email, Fundamental Questions, Goals, Good Starting Point, Half A Day, Last Quarter, Lt, Plan Ahead, Resolutions, Sit, Smart, Thinking Time, Three Months
Posted in Dan Richards | Comments Off
---
Wednesday, January 12th, 2011
Ear­lier this year, I con­ducted a series of work­shops spon­sored in part by Macken­zie Financial.
Recently, a Macken­zie whole­saler emailed me with a ques­tion from an advi­sor, curi­ous if I had any ideas on how to ini­ti­ate refer­rals tar­get­ing mil­lion dol­lar plus clients.
As you move up the high net worth lad­der, con­fi­den­tial­ity becomes a big­ger and big­ger con­cern — and any­thing resem­bling a tra­di­tional mass mar­ket approach to refer­rals sim­ply doesn't work and in fact can harm the relationship.
The result is that many advi­sors who work with high end clients adopt a "build it and they will come" approach to refer­rals — they focus on doing good work and rely on that to be suf­fi­cient to moti­vate clients to men­tion their names to friends.
The prob­lem with this approach is that in some instances you'll get refer­rals just by doing good work, they'll gen­er­ally be fewer in num­ber and take longer than most advi­sors would like.
Hap­pily, there is an approach that main­tains a pro­fes­sional rela­tion­ship while increas­ing the odds of get­ting referrals.
About four years ago, I con­ducted research on the topic of refer­rals among investors with assets of $250,000 or more. As part of that, I asked investors about 30 dif­fer­ent approaches their advi­sor might take in bring­ing up referrals.
There was one approach that scored high­est among clients across all asset levels.
Most com­mu­ni­ties have an orga­ni­za­tion which brings in high pro­file lun­cheon speak­ers — the Board of Trade, Cana­dian Club, Rotary, Kiwa­nis, Eco­nom­ics Club or the like.
Start by split­ting a table of ten at a lun­cheon with a speaker with broad appeal — some­one like Mark Car­ney for example.
You and your col­league will each end up with five tick­ets, these are typ­i­cally priced at $40 or $50 each, so your invest­ment for five seats might be around $250.
Next invite two key clients to attend who you think would find the speaker of interest.
Once clients accept, tell them you're delighted they'll be able to join you and then ask if they'd like to bring a guest along, say­ing you have another ticket available.

    Lat­est Advi­so­r­An­a­lyst Prac­tice Growth Sto­ries
Tags: Asset Levels, Best Route, Club Rotary, Colleague, Confidentiality, Economics Club, Instances, Kiwanis, Kiwanis Club, Ladder, Luncheon Speakers, Mackenzie Financial, Mark Carney, Market Approach, Mass Market, Odds, Problem With This Approach, Professional Relationship, Referrals, Rotary Club, Traditional Mass, Wholesaler
Posted in Dan Richards | Comments Off
---